Avon Athletic Hall of Fame
Class of 2018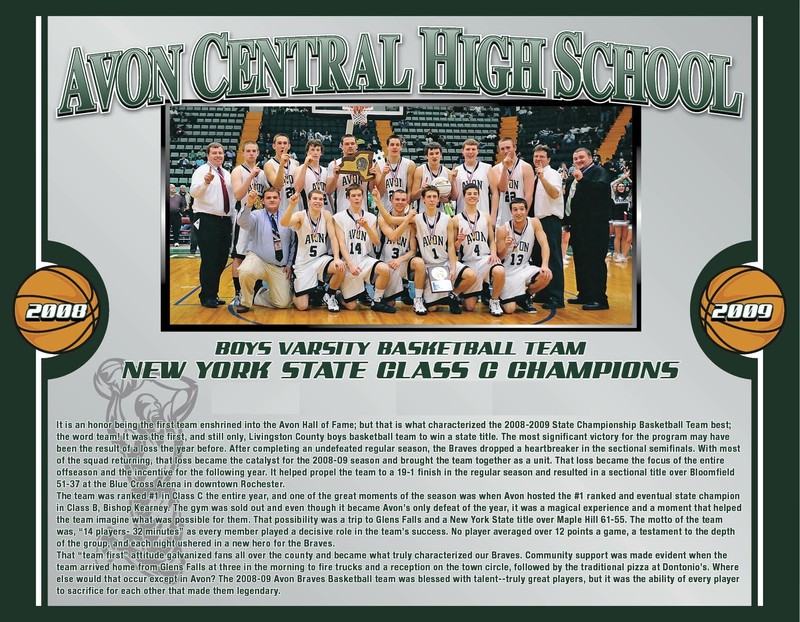 2008 - 2009 Boys Varsity Basketball Team
New York State Class C Champions
#1 Dan Banach - 2009
#3 Patrick Hayes - 2010
#4 Seamus Donegan - 2010
#5 Patrick Campbell - 2010
#11 Garrett Kesel - 2010
#12 Max Barrett - 2009
#13 Shawn Perry - 2010
#14 Charlie Passarell - 2009
#15 Brian Babbitt - 2010
#20 Matthew Turner - 2009
#21 Corey Upright - 2010
#22 Matt Phillips - 2009
#23 Matt McBride - 2009
#24 John Housel - 2009
Head Coach - Rob Fries
Assistant Coach- Brian Paganin
Assistant Coach - Justin Dueppengeisser
Statistician - Josh Matusak
About the Team:
It is an honor being the first team enshrined into the Avon Hall of Fame; but that is what characterized the 2008-2009 State Championship Basketball Team best; the word team! It was the first, and still only, Livingston County boys basketball team to win a state title. The most significant victory for the program may have been the result of a loss the year before. After completing an undefeated regular season, the Braves dropped a heartbreaker in the sectional semifinals. With most of the squad returning, that loss became the catalyst for the 2008-09 season and brought the team together as a unit. That loss became the focus of the entire offseason and the incentive for the following year. It helped propel the team to a 19-1 finish in the regular season and resulted in a sectional title over Bloomfield 51-37 at the Blue Cross Arena in downtown Rochester.
The team was ranked #1 in Class C the entire year, and one of the great moments of the season was when Avon hosted the #1 ranked and eventual state champion in Class B, Bishop Kearney. The gym was sold out and even though it became Avon's only defeat of the year, it was a magical experience and a moment that helped the team imagine what was possible for them. That possibility was a trip to Glens Falls and a New York State title over Maple Hill 61-55. The motto of the team was, "14 players- 32 minutes" as every member played a decisive role in the team's success. No player averaged over 12 points a game, a testament to the depth of the group, and each night ushered in a new hero for the Braves.
That "team first" attitude galvanized fans all over the county and became what truly characterized our Braves. Community support was made evident when the team arrived home from Glens Falls at three in the morning to fire trucks and a reception on the town circle, followed by the traditional pizza at Dontonio's. Where else would that occur except in Avon? The 2008-09 Avon Braves Basketball team was blessed with talent--truly great players, but it was the ability of every player to sacrifice for each other that made them legendary.