The Snowy Raccoons topped the Bonnie Ballers in straight sets this afternoon in our intramural volleyball championship game. Heck of a game. You're all winners in our book!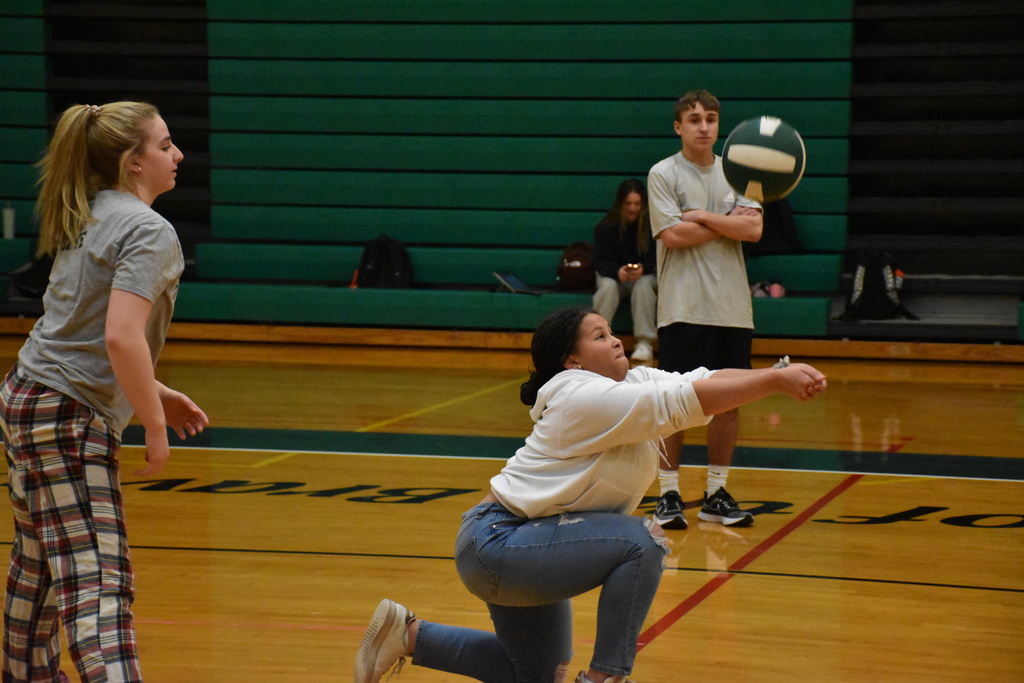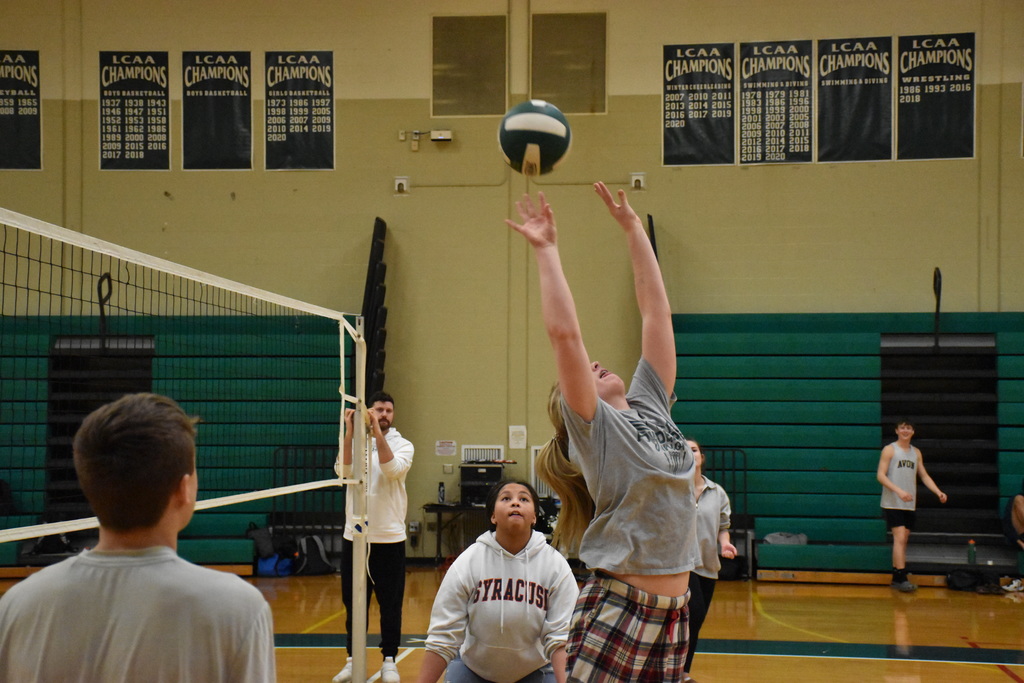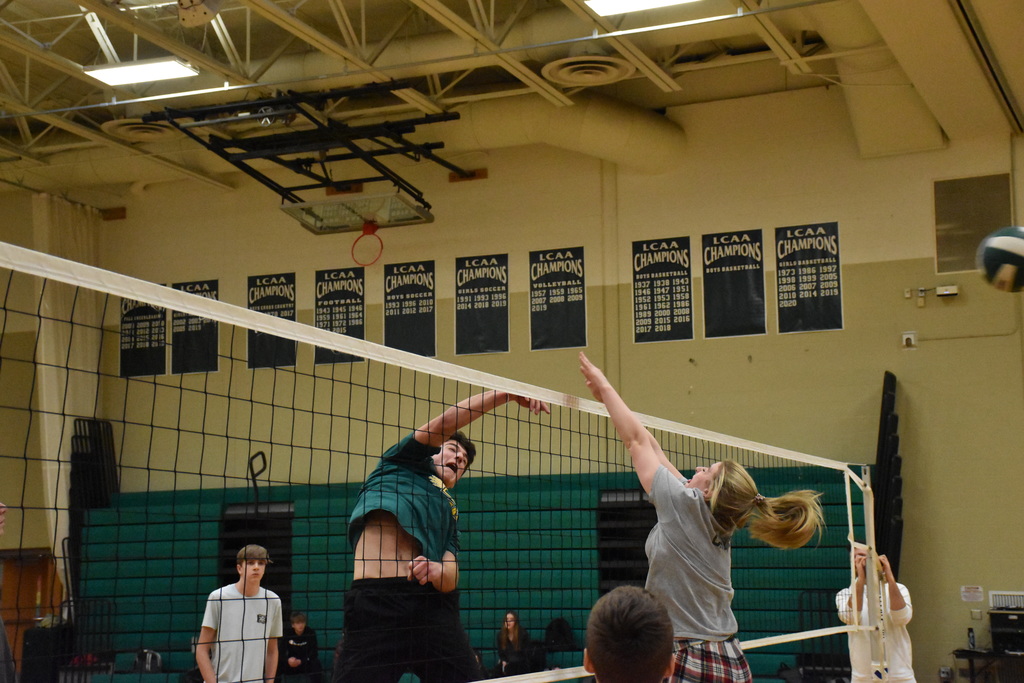 The Great Kindness Challenge wrapped up this afternoon in Avon Elementary School. Throughout the week, students participated in activities in their classrooms to learn more about different aspects of kindness, then challenged themselves to commit acts of kindness during the school day. For example, students in Mrs. Elizabeth Stroud's third grade class created a snack shelf where students who'd forgotten their snack for the day could come grab something to eat. Students in Mrs. Sarah Howell's third grade class picked affirmations for different teachers, then wrote letters to those teachers telling them why they embodied that trait. Each time a class performed an act of kindness, they earned a kindness leaf for our kindness tree. At the end of the week, the class with the most leaves on the tree would be named the winner. While all of our students did a great job showing kindness the entire week, the class that earned the most leaves and was named winner of the Great Kindness Challenge was Mrs. Jennifer Leonard's first grade class! She and her students were presented with the coveted Spirit Stick today during our Braves Leaders of the Month Assembly. A special shout out to Alexis McTarnaghan, Baylee Barrett and all of our other teachers, staff and students who made this challenge such a success!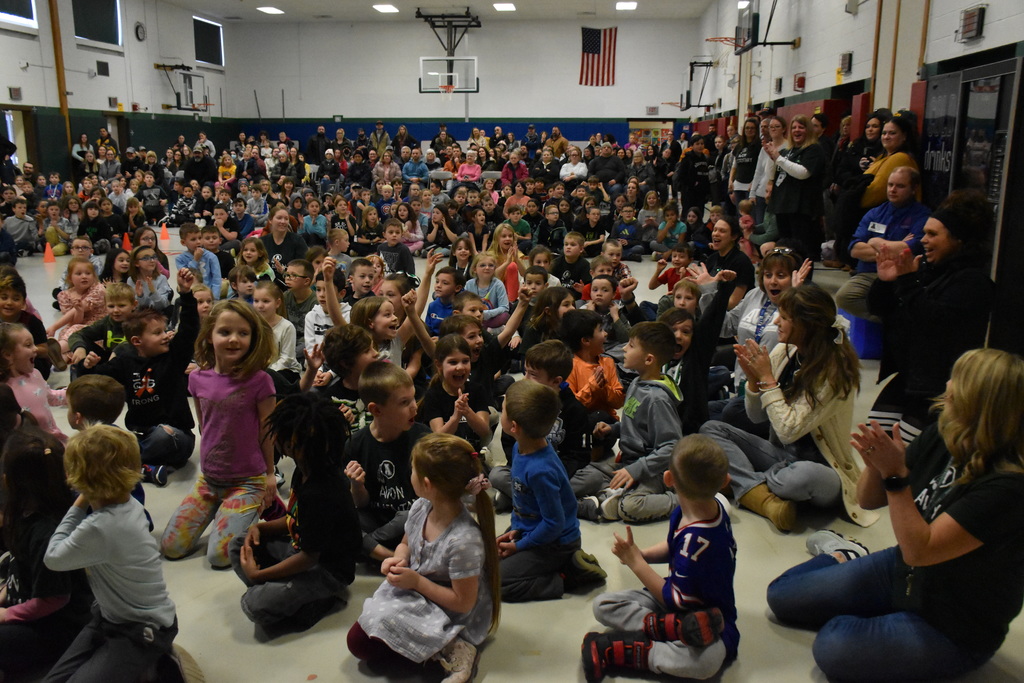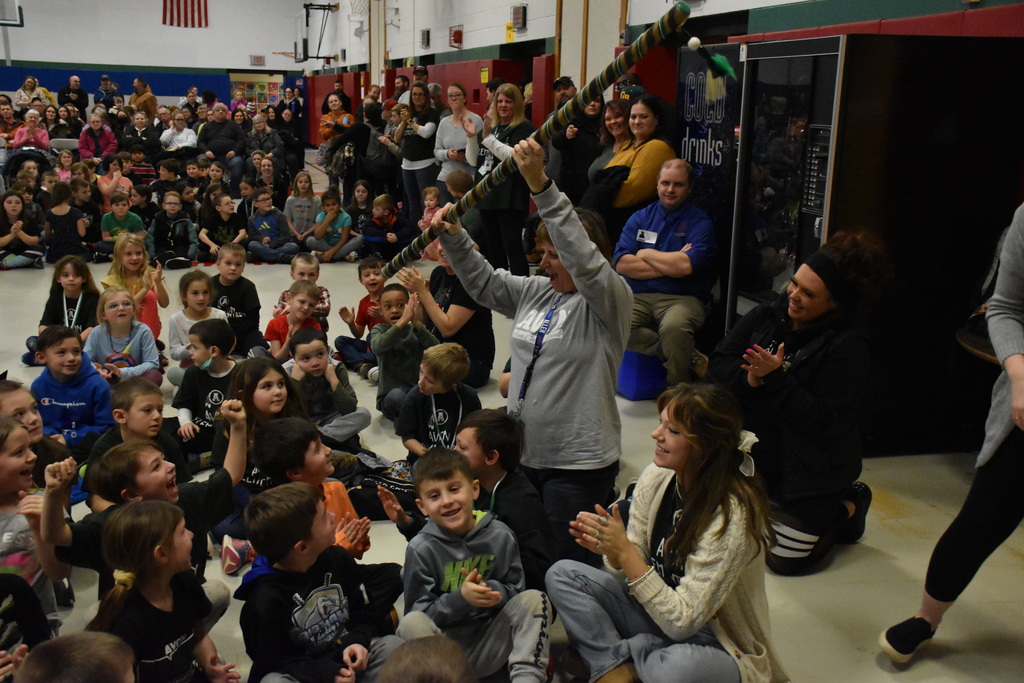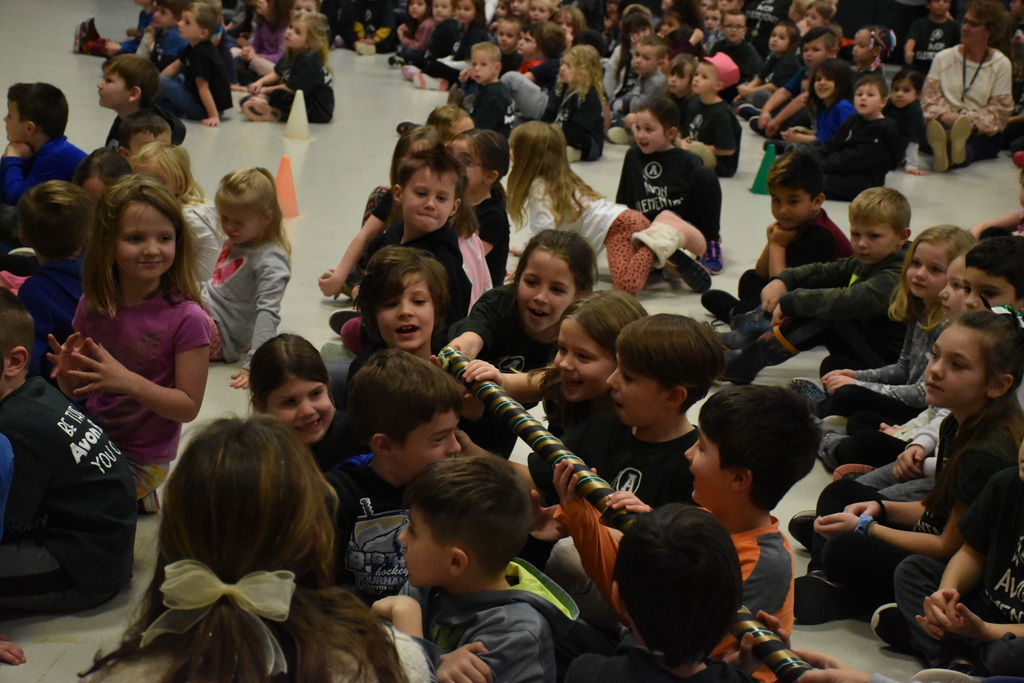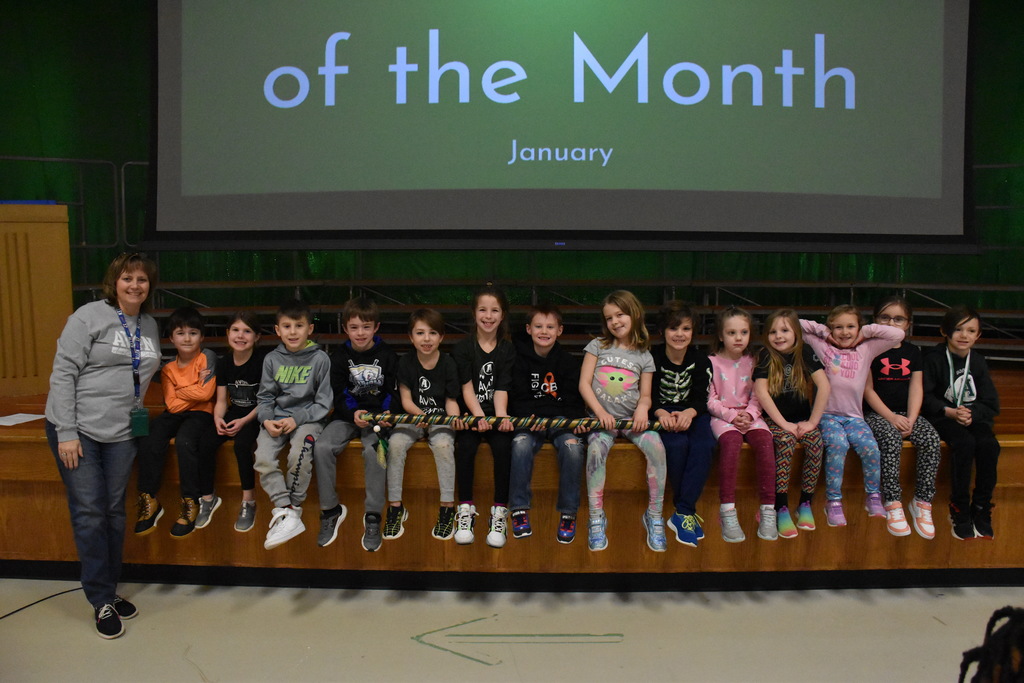 Avon will be well-represented at the Genesee Valley School Music Association's All-County Music Festival, which begins this afternoon at Perry Central School District. Student musicians from each of GVSMA's 12 component school districts selected for 5/6 band, junior chorus and high school jazz band will rehearse together as groups this afternoon and tomorrow morning before a concert tomorrow afternoon. Members of the 5/6 Band were selected based on teacher recommendations while members of the junior chorus auditioned at a solo-festival earlier this year. Congratulations to our 15 all-county student musicians! The following Avon students were selected for the All-County 5/6 Band: • Gavin S. (trombone) • Zuniel C. (trombone) • Alaney G. (alto saxophone) • Jeff G. (trumpet) • Delaney J. (clarinet) • Ryan K. (trumpet) • Claire L. (flute) • Adam P. (alto saxophone) The following Avon students were selected for the All-County Junior Chorus (grades 7-9): • Megan K. (alto) • Mitchell B. (baritone) • Clara D. (soprano) • Lucy M. (alto) • Ellie T. (alto) • Mason B. (baritone) • Molly R. (soprano)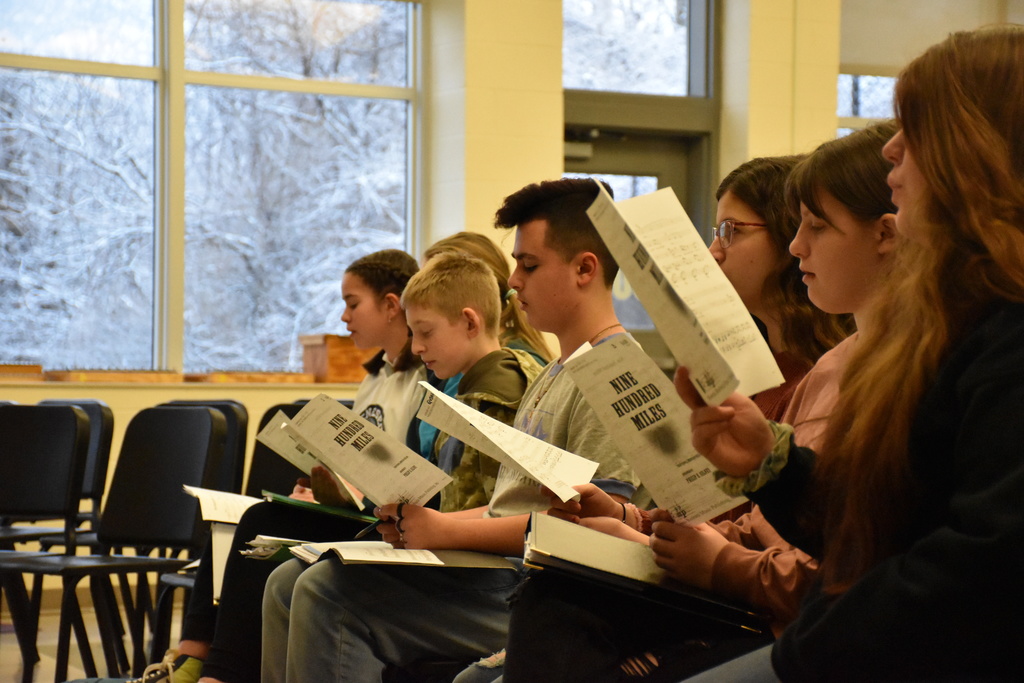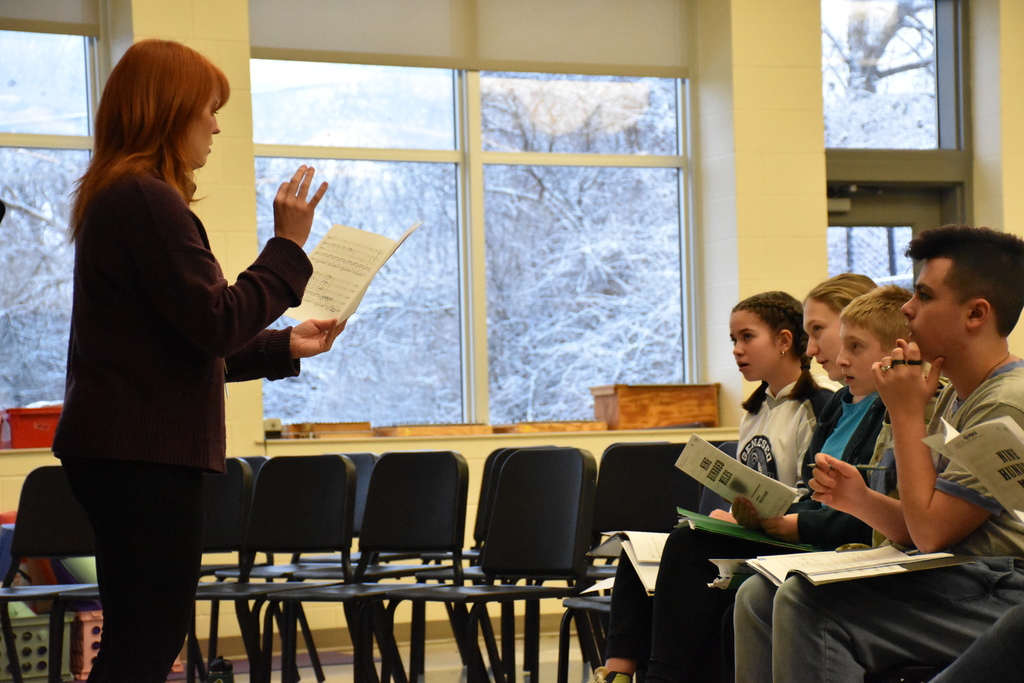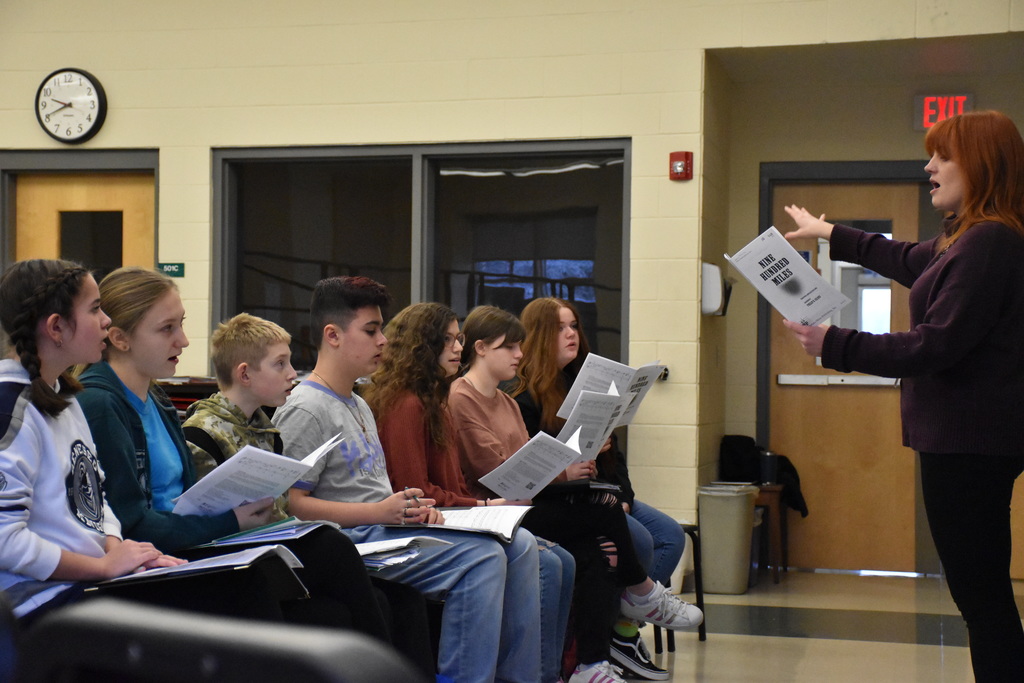 Members of the Avon/Geneseo/Livonia Lakers hockey team held a teacher appreciation night last week before their home game against Iroquois Central. Avon's nine team members - Colton D., Christian R., Dylan A., Fletcher K., Sullivan D., David O., Nicholas L., Jack R. and Jack F. - each picked a member of our faculty who they appreciate and are thankful for and recognized them at center ice before the game. Shout out to all our teachers for doing what you do. Our school district wouldn't be what it is without you. (Photo courtesy of Mike Tenalio)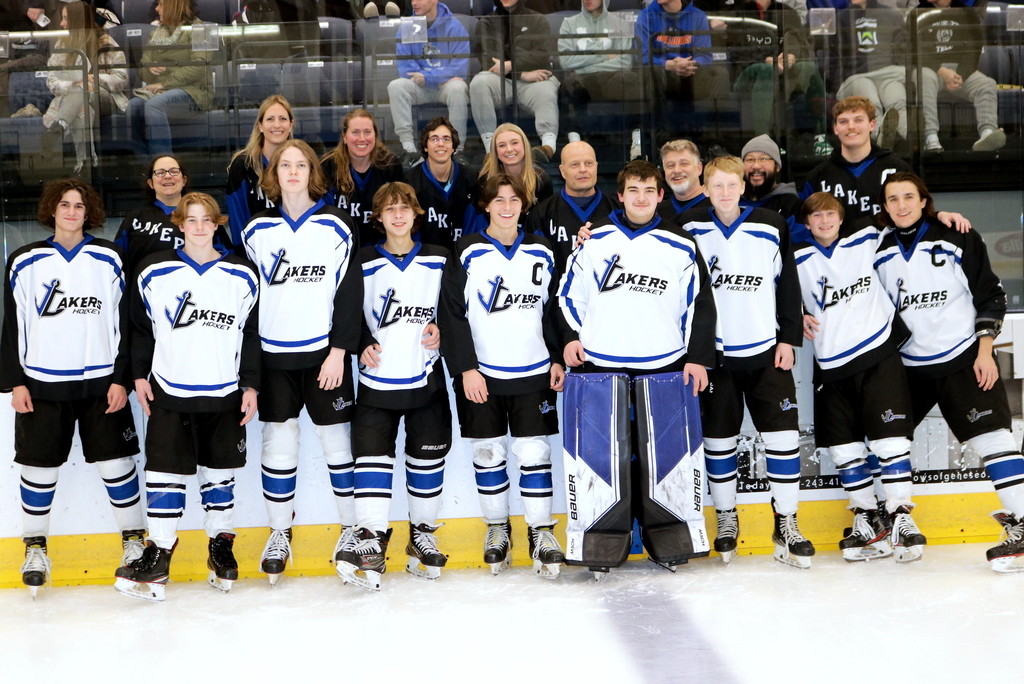 At last night's Board of Education meeting, Board President Rodney George and High School Art Teacher Elizabeth Patteson presented junior Ella O. with the district's Arts & Music Award for her contributions to several recent Art Club projects and activities. In her remarks at last night's award presentation, Patteson, who also serves as advisor to the Art Club, described Ella as "outgoing, friendly, passionate and hard-working." "Since last spring the Art Club has volunteered their time to do face painting for younger students at three large scale events and in one smaller setting and Ella was in attendance at all of them, creating mini masterpieces," continued Patteson. "The Art Club has produced two large scale murals in the community and Ella has been an integral part of both works. Ella showed up for the paint sessions in the dark to project the images, the days off of school and the weekend work sessions too. She came to each work day with a smile and enthusiasm that was contagious." Thank you, Ella, for your commitment to the Art Club and congratulations on this well-deserved recognition! (Photos courtesy of Jen VanRy)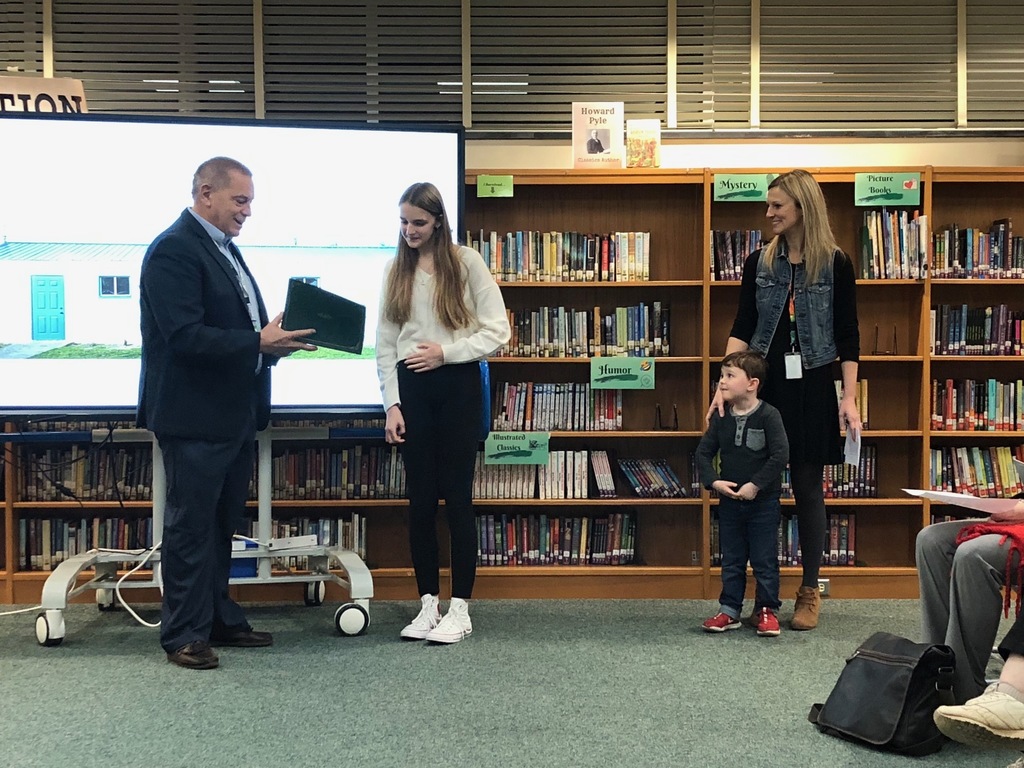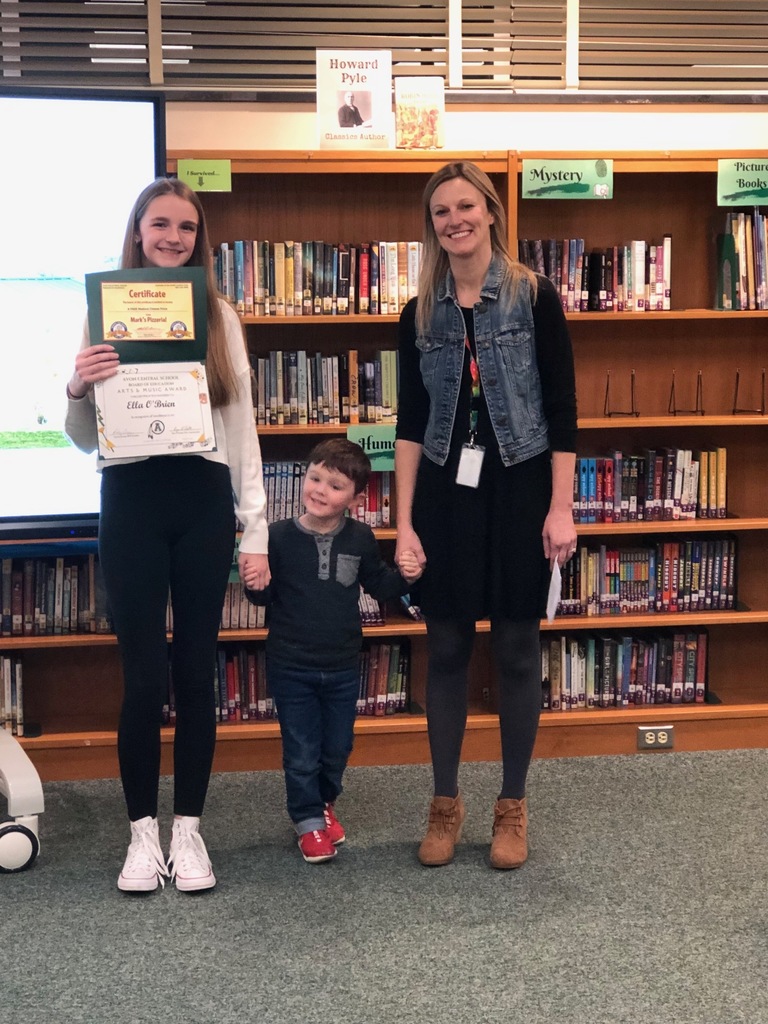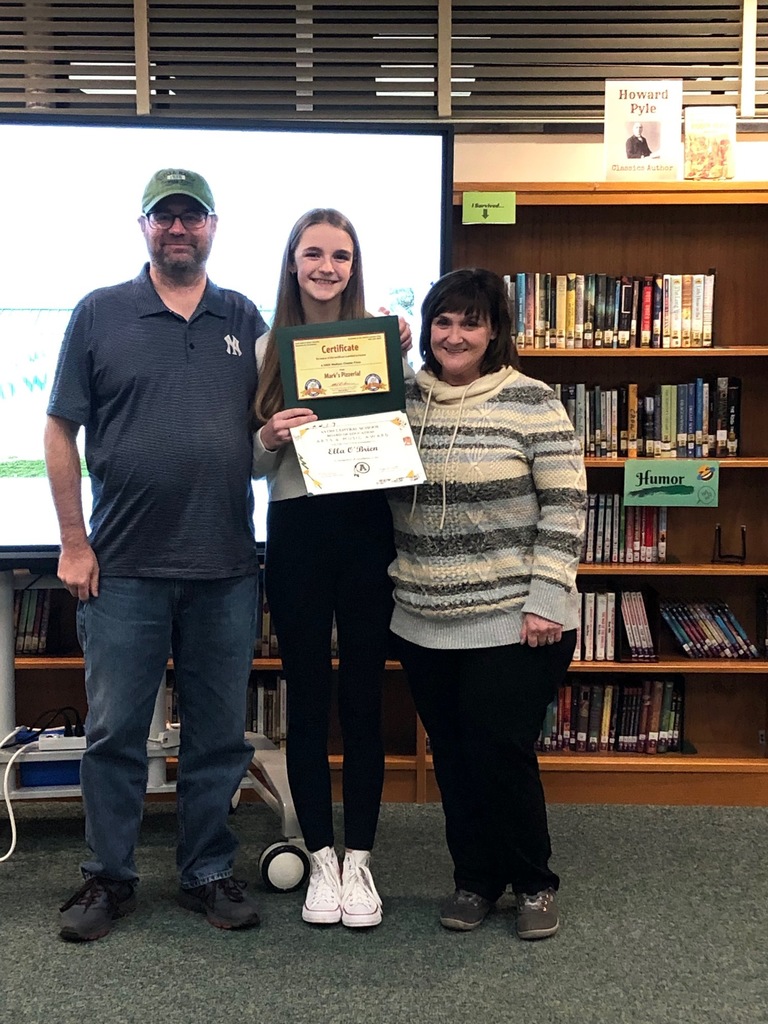 High School Principal Ryan Wagner presented Livingston County Veterans Services Director David Terry with the proceeds from our Veterans Day 5K Run/Walk at last night's Board of Education meeting. After expenses, our inaugural 5K raised $1,351 for the county's Veterans Services Department. This donation was made possible by all those who came out to run, walk or volunteer at our 5K. Thank you for your support of our nation's veterans! (Photos courtesy of Jen VanRy)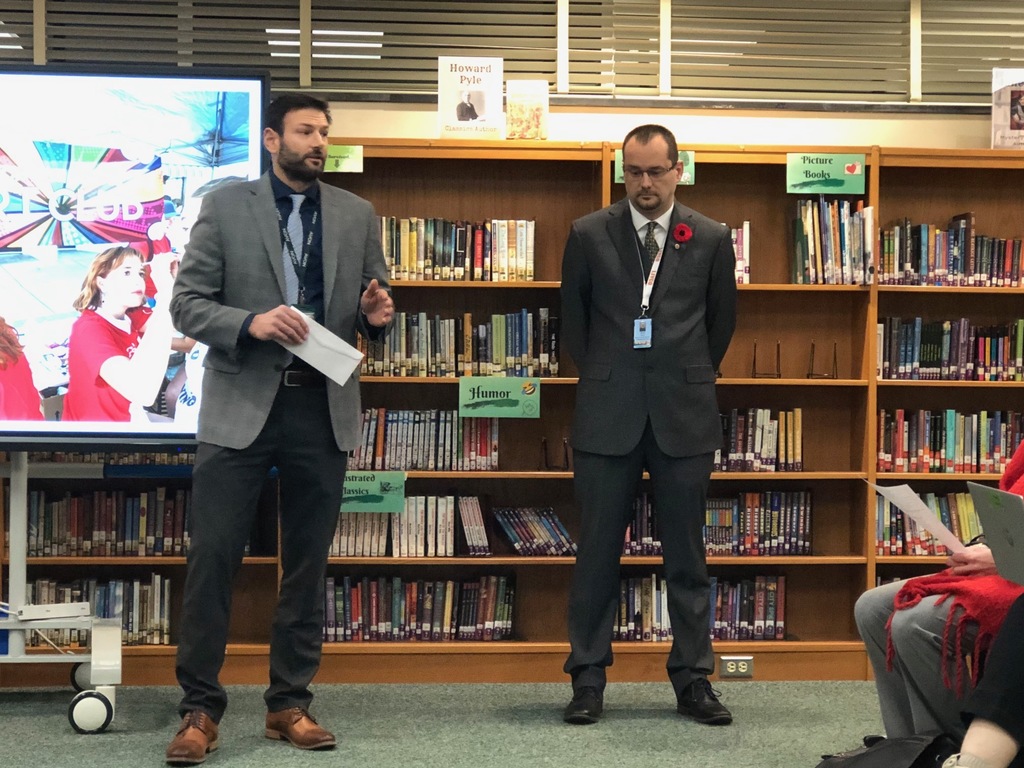 Representatives from Genesee Valley BOCES stopped by Avon last week to tell our sophomores and juniors about the educational partnership's health career and sports science academies. Just two of the many academic programs available to students, BOCES' health careers and sports sciences academies are one-year programs designed for seniors who plan to attend a two- or four-year college after high school. In addition to serving as a solid foundation for further studies, the academies also allow students to earn college credits at about ⅓ the cost of a typical college or university. The health career academy prepares students for careers in chiropractic, dentistry and substance abuse counseling, among many others. Some of the career paths available to students in the sports science academy include athletic training, physical therapy and exercise physiology - likewise, among many others. Many thanks to Judy Essig, a criminal justice instructor with BOCES, and Ann Valento, director of ACE Advanced Studies with Genesee Community College, which partners with BOCES to offer the academic programs, for coming to speak with our students!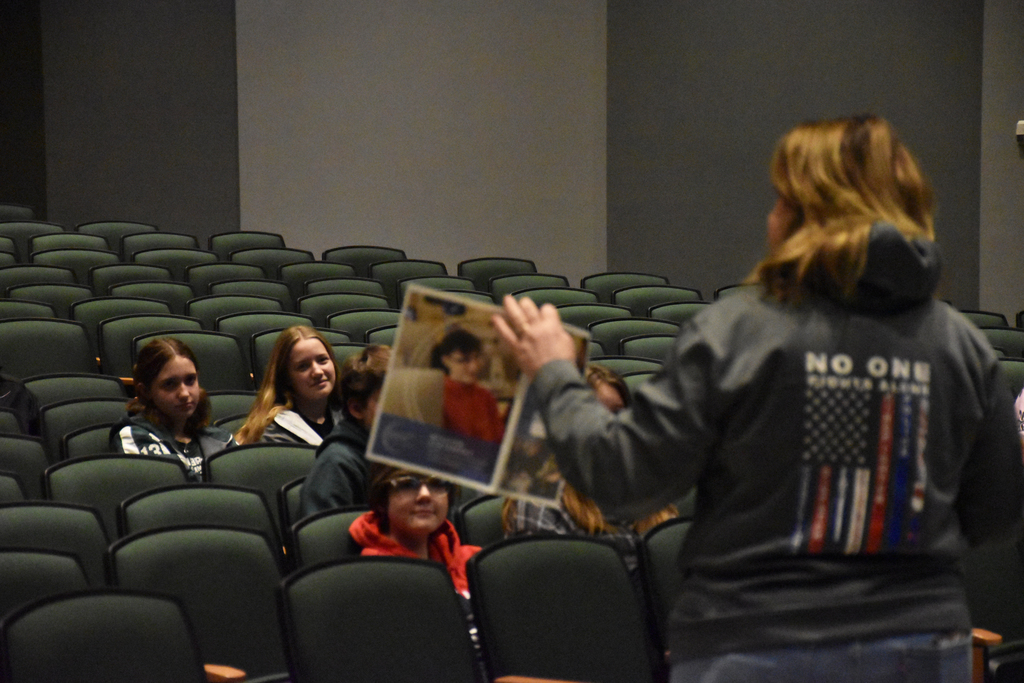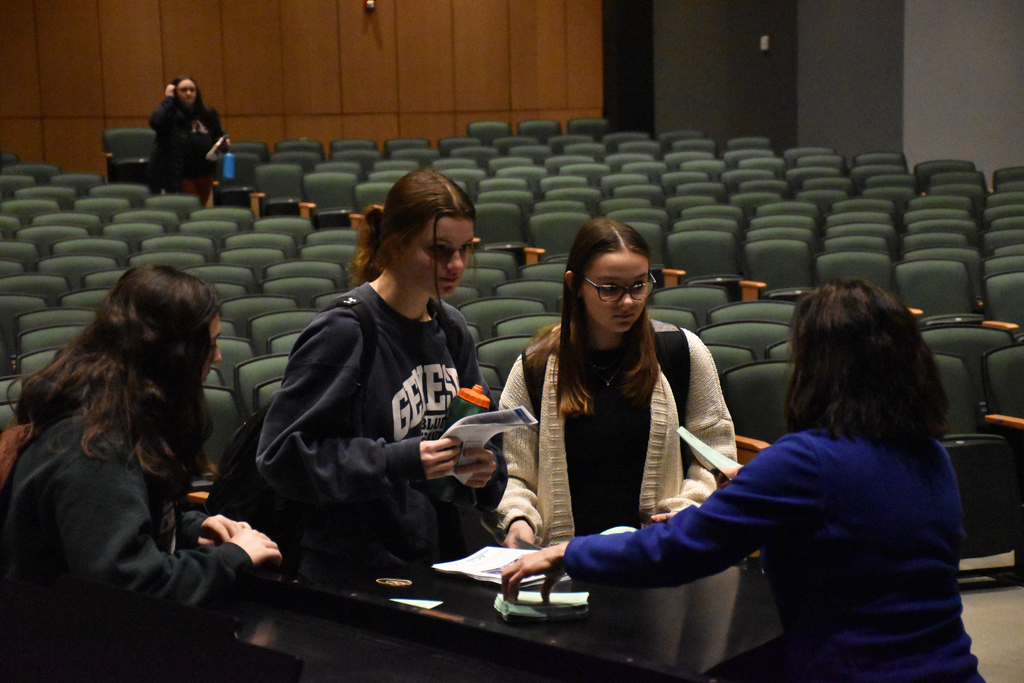 Avon came away from the Livingston County Athletic Association Swimming & Diving Championships in Bath this weekend with a second place finish, falling to champion Livonia by a score of 584 to 393. Freshman Jessie C. was Avon's sole winner as she captured the 200-yard individual medley with a time of 2:15.26. Jessie also took second in the 100-yard backstroke with a time of 1:03.20. Other top performers for the Braves were: • Brandon H., a freshman, who took third in the 200-yard freestyle (2:00.72) and second in the 500-yard freestyle (5:24.34) • Kaitlyn G., a junior, took second in the 100-yard butterfly (1:00.37) and fourth in the 200-yard individual medley (2:18.24) • The team of Brandon H., Kaitlyn G., Jax R. and Jessie C. took second in the 400-yard freestyle relay with a time of 3:47.59. The Braves were named LCAA Division II champions on the strength of their regular season record while Jax, Jessie, Brandon, Kaitlyn and diver Sydney M. were named LCAA all-stars! Our swimmers have a couple more dual meets before they can turn their attention to sectionals. Let's keep that momentum going, Braves!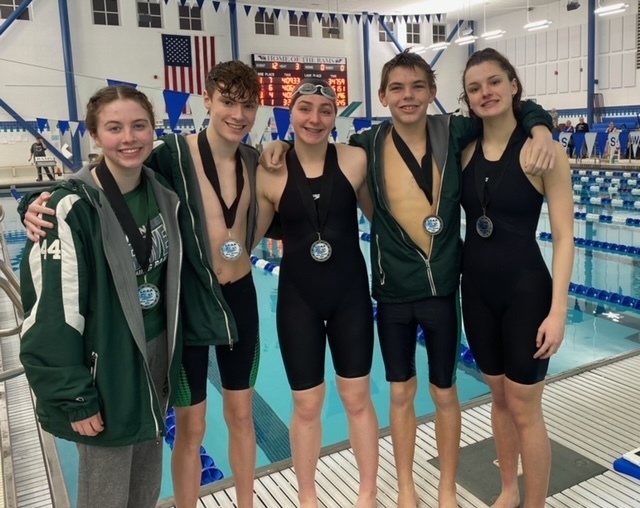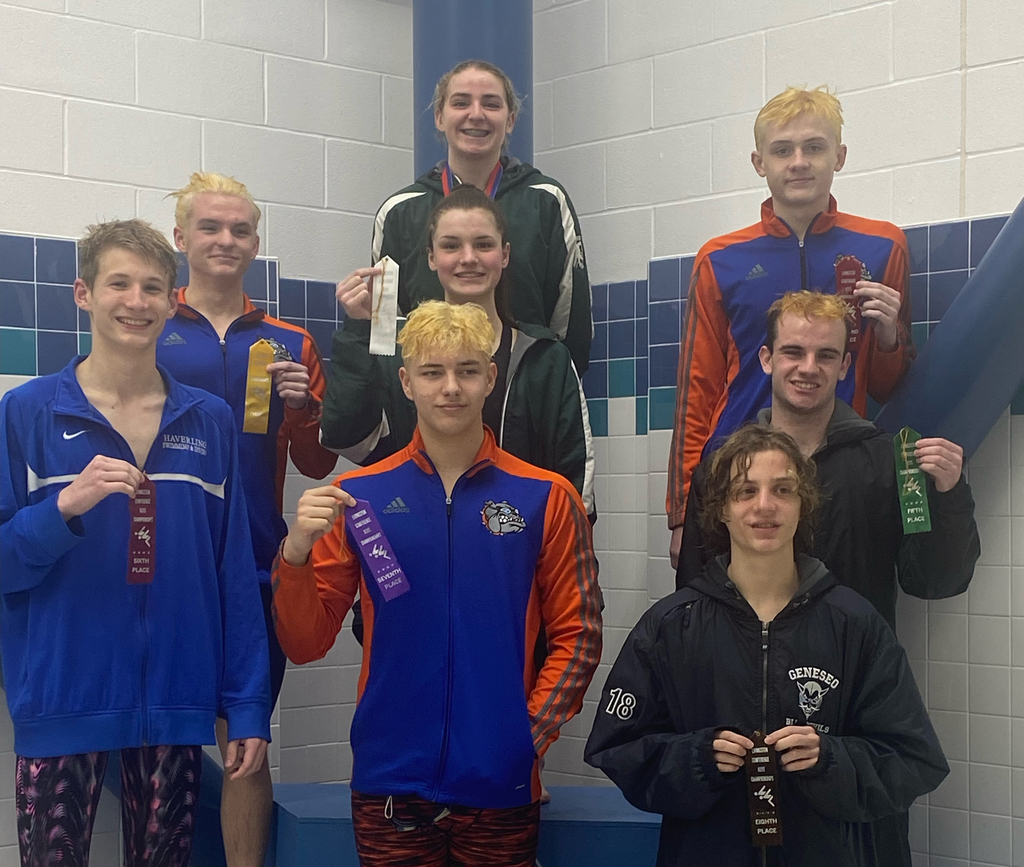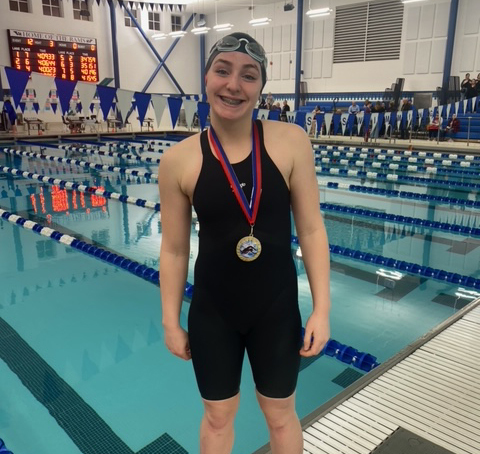 Senior wrestler Ryan F. recorded the 100th win of his career earlier this month at the Caledonia-Mumford Duals, which Avon/Geneseo won with a 5-0 record. Ryan has wrestled at 102 and 110 lbs during his four-year varsity career. His career record now stands at 105-25 - and there's still a lot of season left for him to add to that win total. Congratulations, Ryan!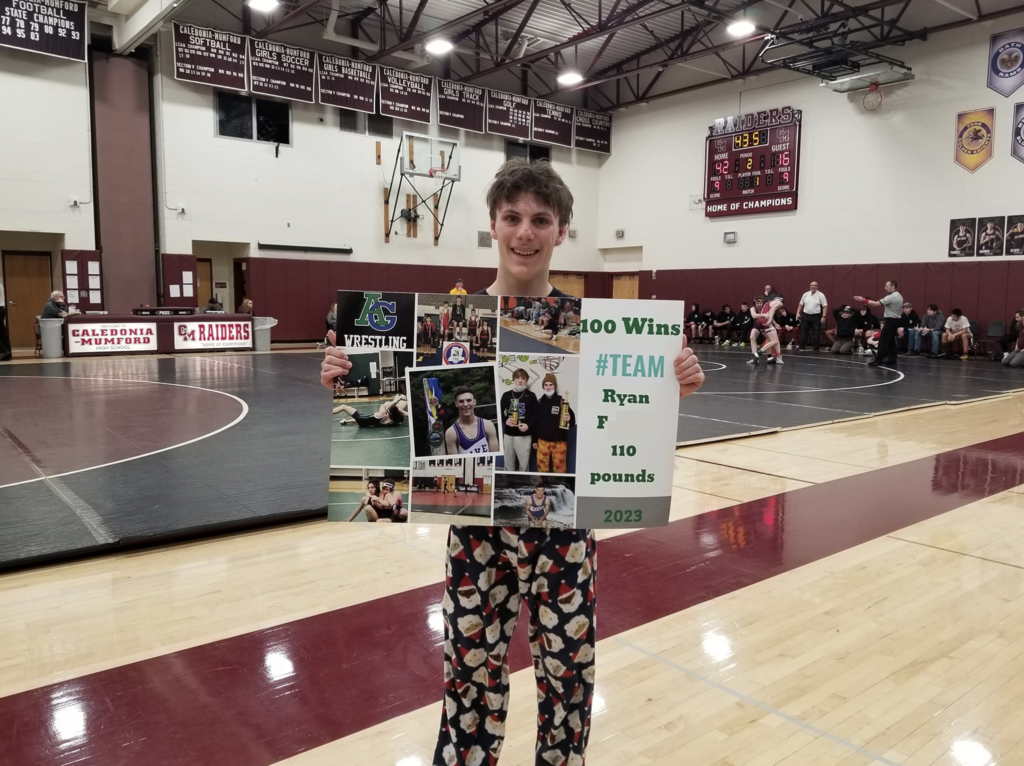 Shoutout to our Braves divers, who captured 5 of the top 10 places last night in the Livingston County Athletic Association's Diving Championships in Bath. Leading the way for Avon were junior Megan M., who placed second with 329.05 points, and senior Sydney M., who took third with a score of 303.65. Junior Abby W. took sixth with 279.4 points, junior Taylor S. took seventh with 228.2 and Izzy C., a freshman, placed ninth with 210.55 points. This strong showing in the 11-dive event puts Avon in a good position heading into the LCAA swimming championships tonight in Bath. Go Braves!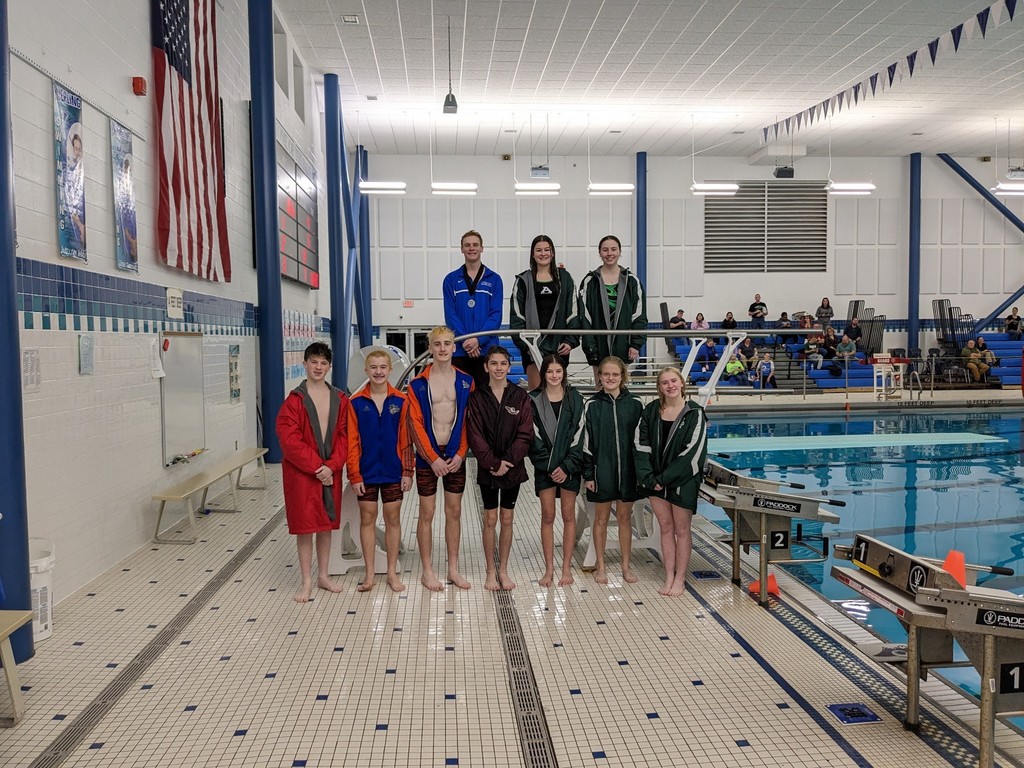 TIMBER!!! Our swimmers felled a veritable forest of York pool records during their meet last night against York-Pavilion. Freshman Jessie C. started out the record-breaking in the 200-yard freestyle, her 2:06.83 swim breaking the old pool record of 2:11.06 set in 2014 by more than four seconds. Later in the meet, Jessie would go on to break pool records in the 50-yard freestyle as the lead-off swimmer in the 200-yard freestyle relay (26.19) and 100-yard breaststroke (1.16.25). Not to be outdone, junior Kaitlyn G. set new pool records in the 200-yard individual medley (2:23.39), 500-yard freestyle (5:37.82) and 100-yard freestyle as the lead off swimmer in the 400-yard freestyle relay (58.89). Kaitlyn's 500-yard freestyle swim was particularly impressive as it shattered the old pool record of 5:50.37 set in 2019 by more than 12-1/2 seconds. Kaitlyn and Jessie also teamed up with senior Claire S. and sophomore Abby S. to set new pool records in the 200-yard freestyle relay (1:48.86) and 400-yard freestyle relay (4:02.10). In all, Braves swimmers set new girls pool records in 8 of 12 events. Incredible! "Our team has been working extremely hard all year and it is great to see all of that hard work paying off in the middle of the season. We had many great performances, best times or scores, throughout the course of the meet and it really feels like we are hitting our stride for the last push of the season," said Head Swim Coach Dan Paganin. "These record breaking girls are tremendous athletes and great team leaders. I am proud of their efforts and all of their accomplishments are definitely well deserved. I am excited to see them continue to improve over the course of the next few weeks as we get into championship season. They have all qualified for sectional events so we will be looking for them to be major contributors for our success in February." With their 51-43 win over York-Pavilion, the Braves moved to 5-1 on the season and are next in action Thursday, Jan. 12 at Haverling.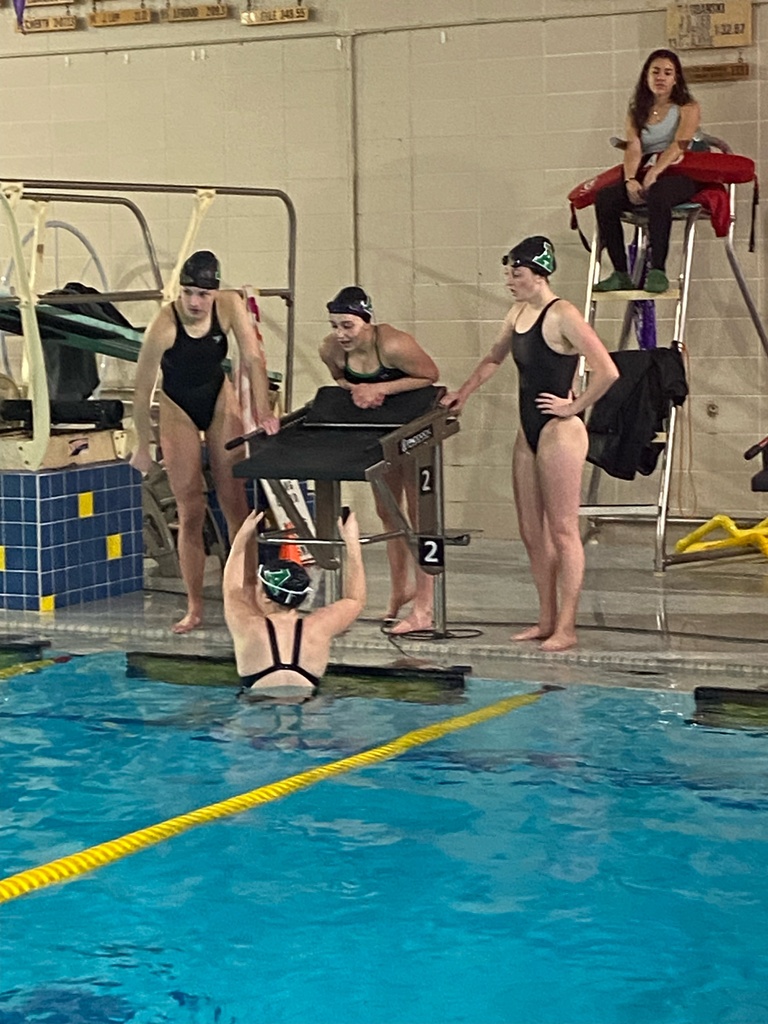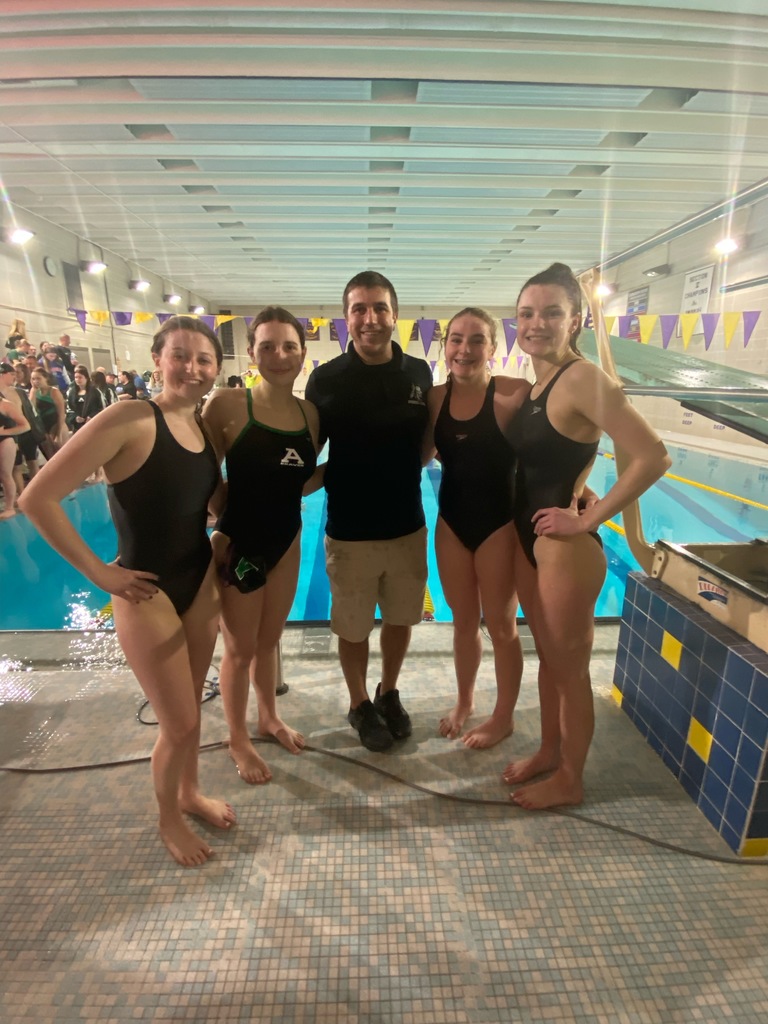 Avon Community: We're happy to announce the proposed capital improvement project was approved by district voters! The final results were: In favor: 156 Opposed: 136 The approval of this project positions our district as an integral part of the broader Avon community for years to come. The positive referendum allows us to address both infrastructure and instruction, ensuring strong academic programming for students within improved facilities. The Board of Education is grateful for the continued support of our residents. We will immediately enter the design phase that will take 10-12 months. Updates about the project - including opportunities for stakeholder input on final project design elements - will be disseminated through a variety of sources and will be posted on the district's web page. The pace will increase in the coming weeks and months, and we look forward to providing updates. Thank you for your support.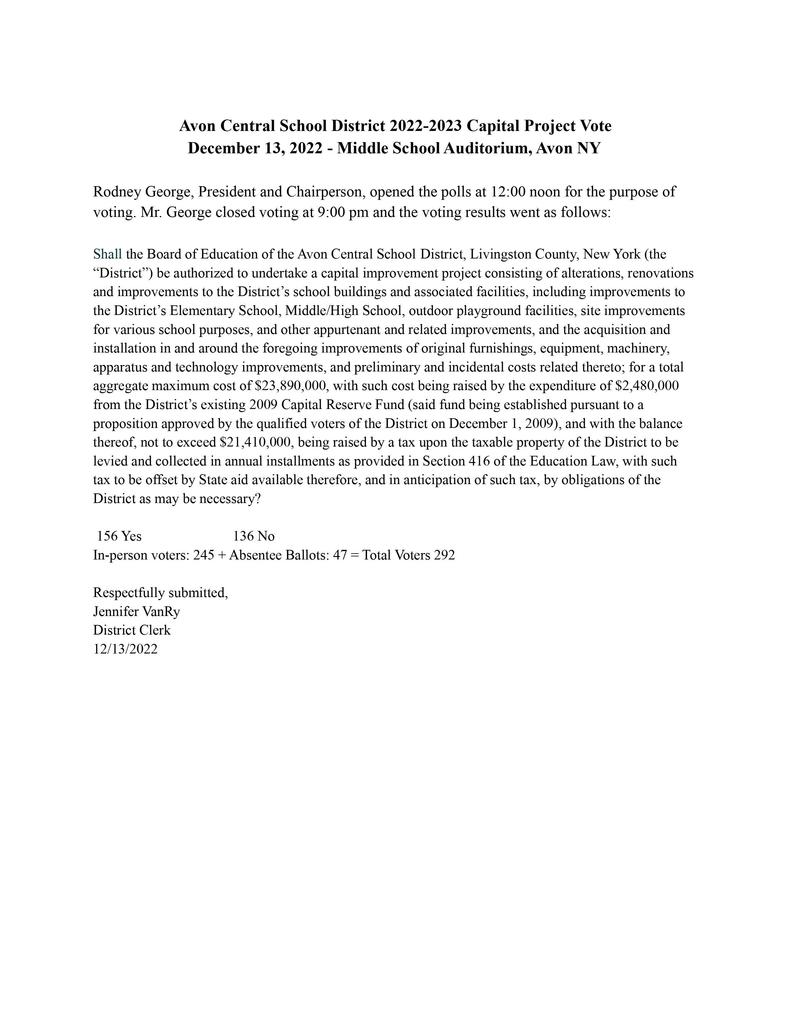 Polls are now open in the Middle School Auditorium for our capital improvement project vote. Polls will remain open until 9 p.m. Voters are asked to park in the Middle School Lot. We encourage all eligible community members to participate in the vote. To learn more about the proposal, visit the 'Capital Project' section of our website at the link below. Link:
https://www.avoncsd.org/page/capital-improvement-project-2022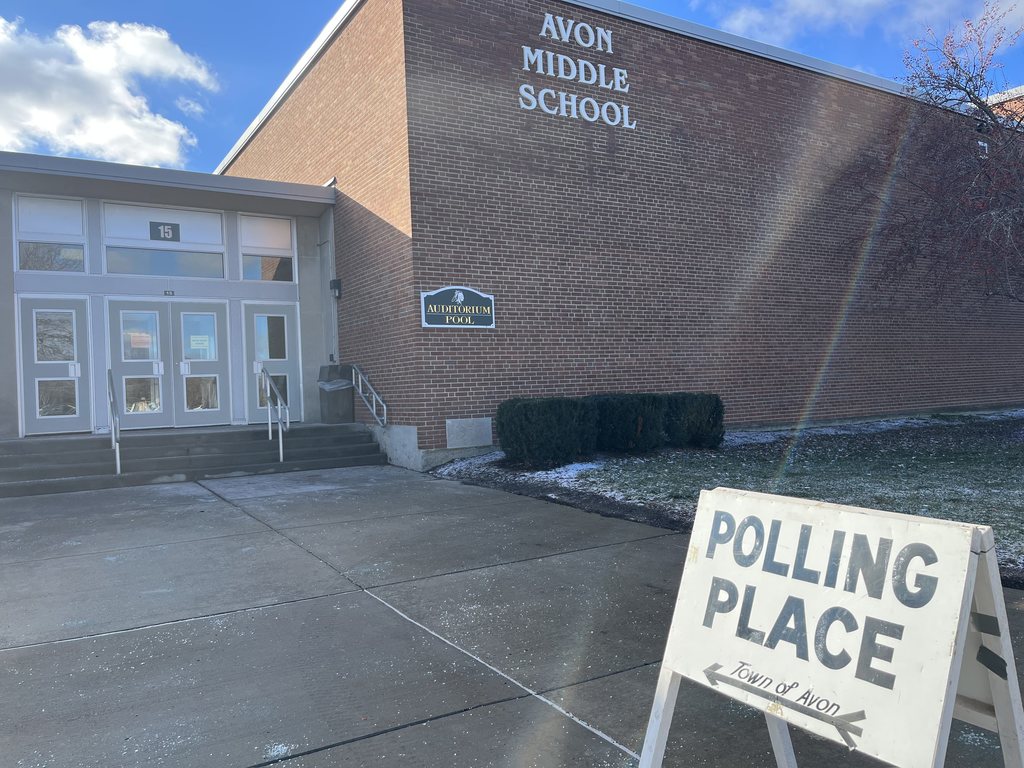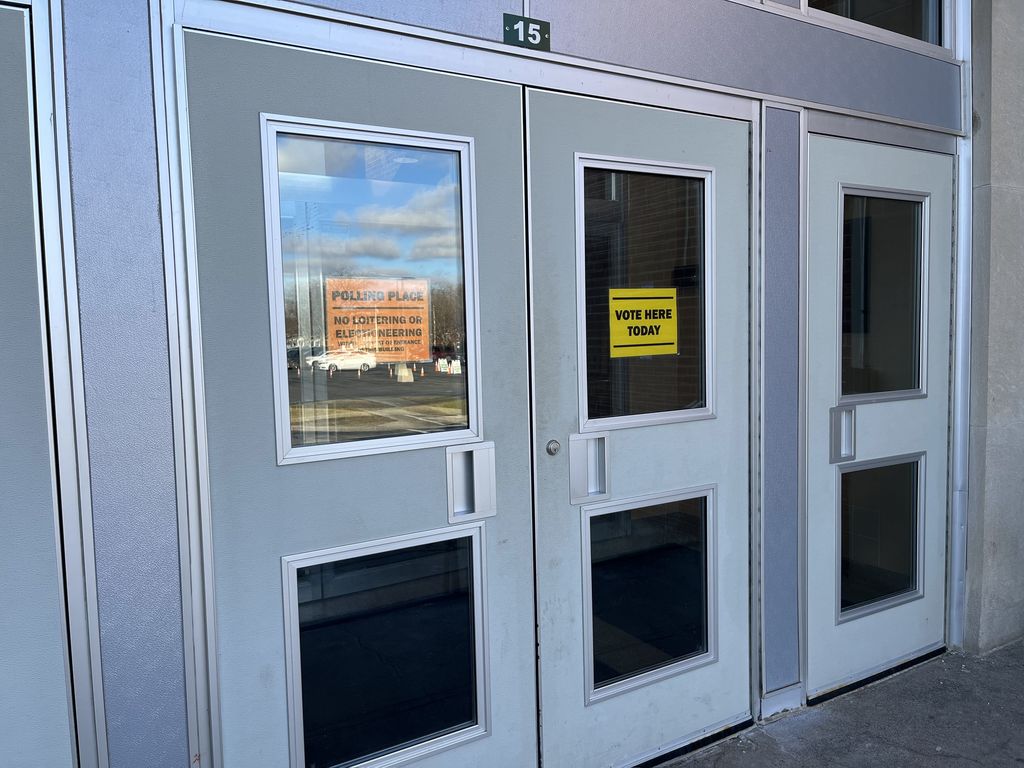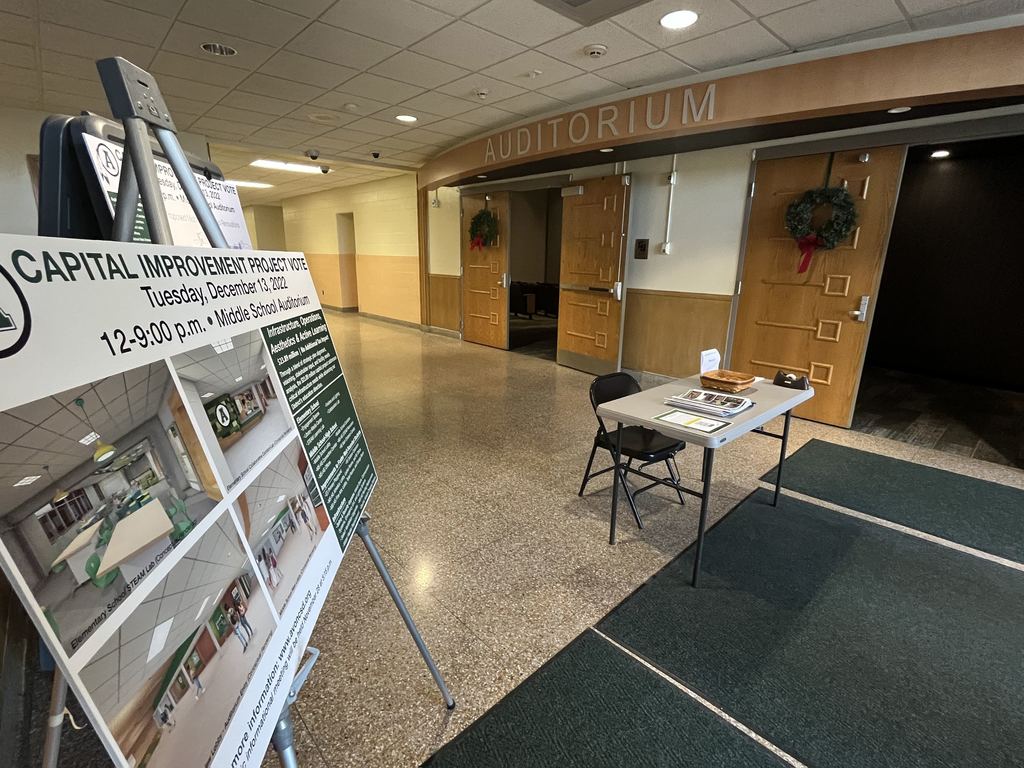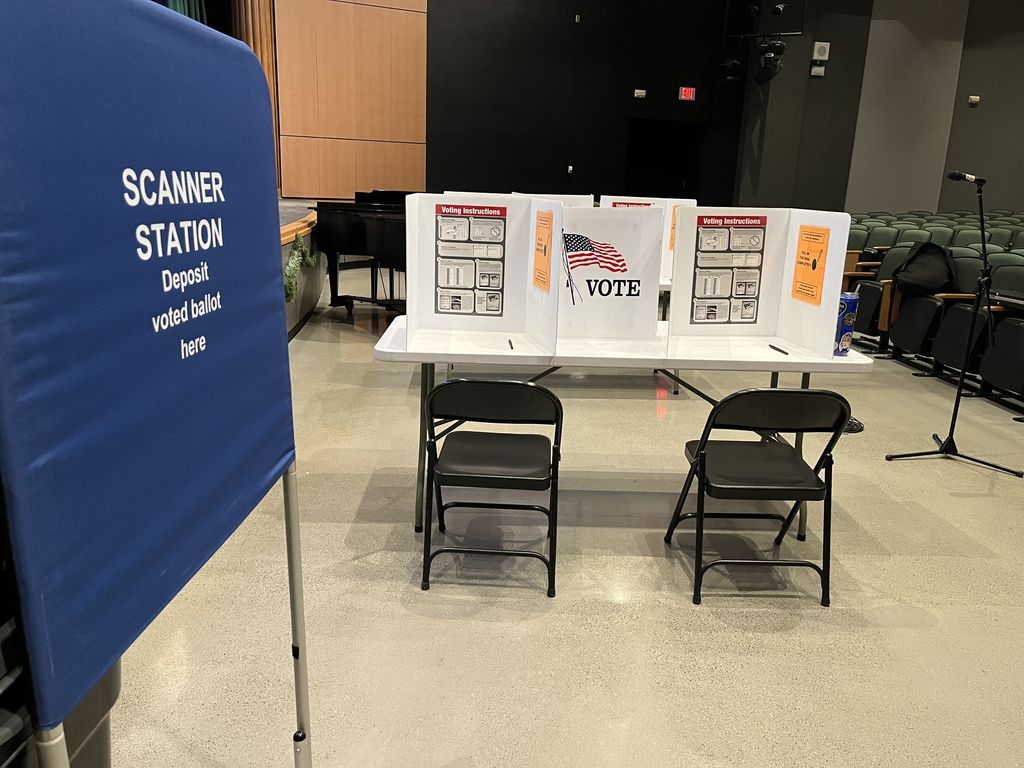 It's mid-November in Avon and you know what that means - time for our theatre program's annual production of "Scrooge!" This year's production has two performances on Saturday, Nov. 19 at 7 p.m. and Sunday, Nov. 20 at 2 p.m. Tickets are $10 (link below). Children four years of age and under are free. Come join us for Avon's longest-running holiday season tradition! (Photos courtesy of Kyleigh V.) Tickets link:
https://www.myschoolbucks.com/ver2/prdembd?ref=ZZH4VLM0XB083V7_ZZ5WG1A9LCXY22V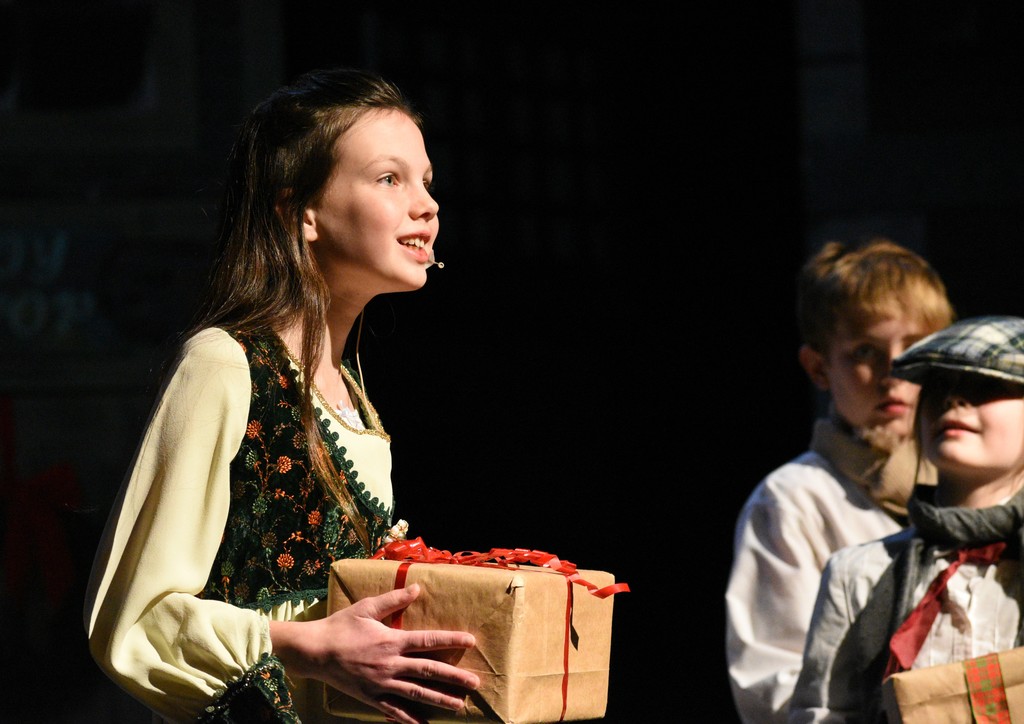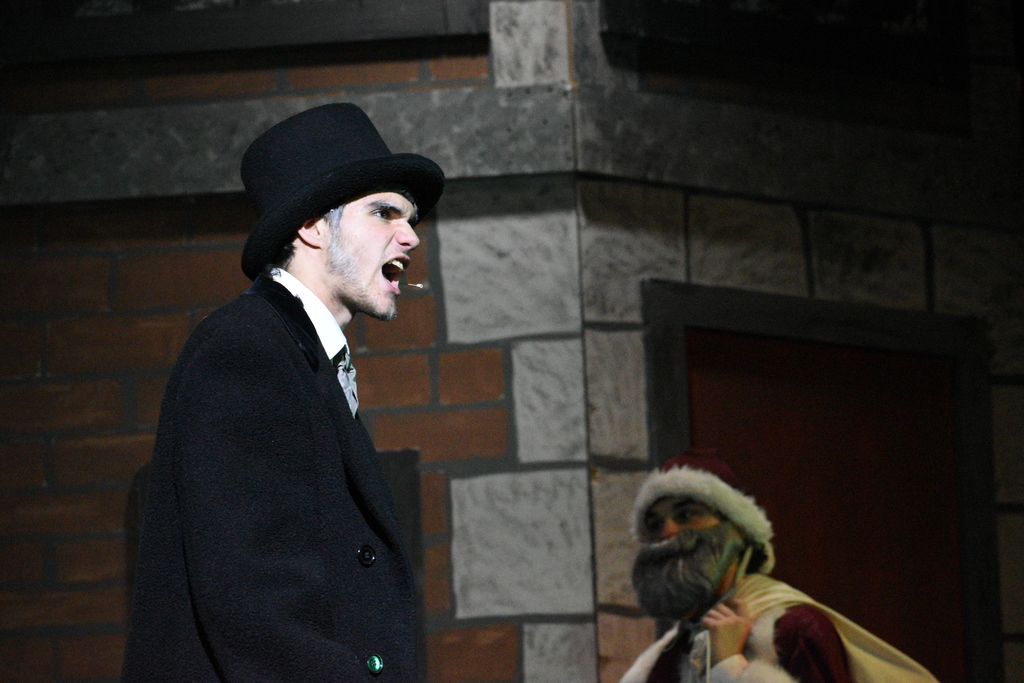 Future Saint: Congratulations to senior Sydney M. who earlier this week signed her National Letter of Intent to dive and further her education at Division I Siena College next year! Sydney is pictured during her signing ceremony Monday with her mom, Tonya, dad, Thomas, and Avon Swimming and Diving Coach Dan Paganin. Way to go, Sydney! (Photos courtesy of Chloe W.)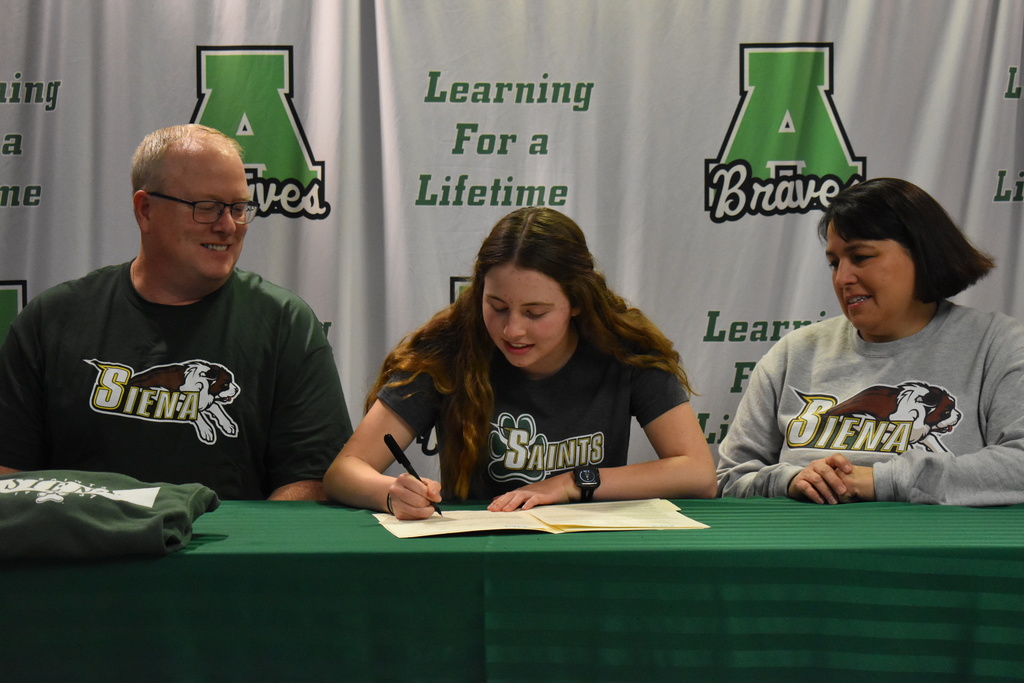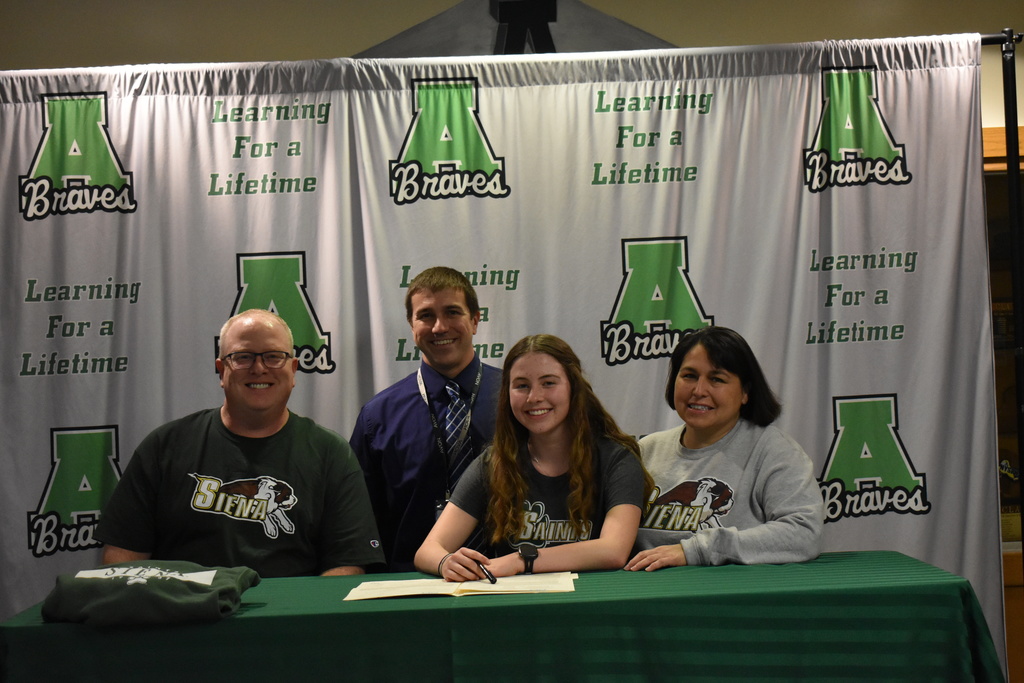 Start popping that popcorn, Braves Nation, because our boys soccer team is headed for a BLOCKBUSTER showdown in the New York State Class C semifinals this weekend. After their 3-0 win over Portville in the Far West Regionals, the Braves will head to Goshen High School in the Hudson Valley to take on Section I's Haldane in the New York State Public High School Athletic Association's Class C semifinal game. The semifinals match is Nov. 12 at 4:45 p.m. Tickets are $11.50 and must be purchased digitally ahead of time through GoFan (linked in QR code). The match will also be livestreamed through the NFHS Network (linked in QR code). There is a fee to access the livestream. After an 8-2 win over Hamilton in the Section I Class C Championship, Haldane, now 16-2 on the season, beat Section IX's Rhinebeck 2-1 in the subregionals and Section XI's Pierson/Bridgehampton 2-0 in the regionals to advance to Saturday's Class C semifinals match against Avon. The Braves will bring a perfect, 21-0 record and an 18-game shutout streak to the semifinals. Should Avon get the win over Haldane, it will face the winner of Cooperstown (Section III) and Maple Hill (Section II) in the state championship Sunday, Nov. 13 at 3:15 p.m. at Middletown High School. Tickets link:
https://gofan.co/app/events/733964?schoolId=NYSPHSAA
Livestream link:
https://www.nfhsnetwork.com/events/nysphsaa/gama3d5a8a2dd
Road to the Final Four: With its 2-0 win over Red Creek last night, your varsity boys soccer team will travel to Spencerport High School Friday, Nov. 4 where they'll face Section VI's Portville in the New York State Public High School Athletic Association Class C Western Regionals. The winner will advance to the Class C state semifinals at Goshen High School in Orange County Saturday, Nov. 12! The Braves bring a perfect, 20-0 record into the matchup against Portville, who beat Holland/Franklinville/West Valley 3-1 to claim the Section VI Class C championship. Portville has a 14-3 record on the season (7 shutouts), has scored 47 goals and given up 21. Eighteen of Avon's 20 wins have been shutouts. The Braves have scored 72 goals this season and given up 3. The match starts at 5 p.m. and will be livestreamed through the NFHS Network. There is a fee to stream the game. Use the link below to access the stream. Digital tickets are $8.35 and can be purchased online through GoFan using the link below. As ever, go Braves! Livestream link:
https://www.nfhsnetwork.com/events/nysphsaa/gam0355129bbc
Digital tickets link:
https://gofan.co/app/events/710881?schoolId=NYSPHSAAV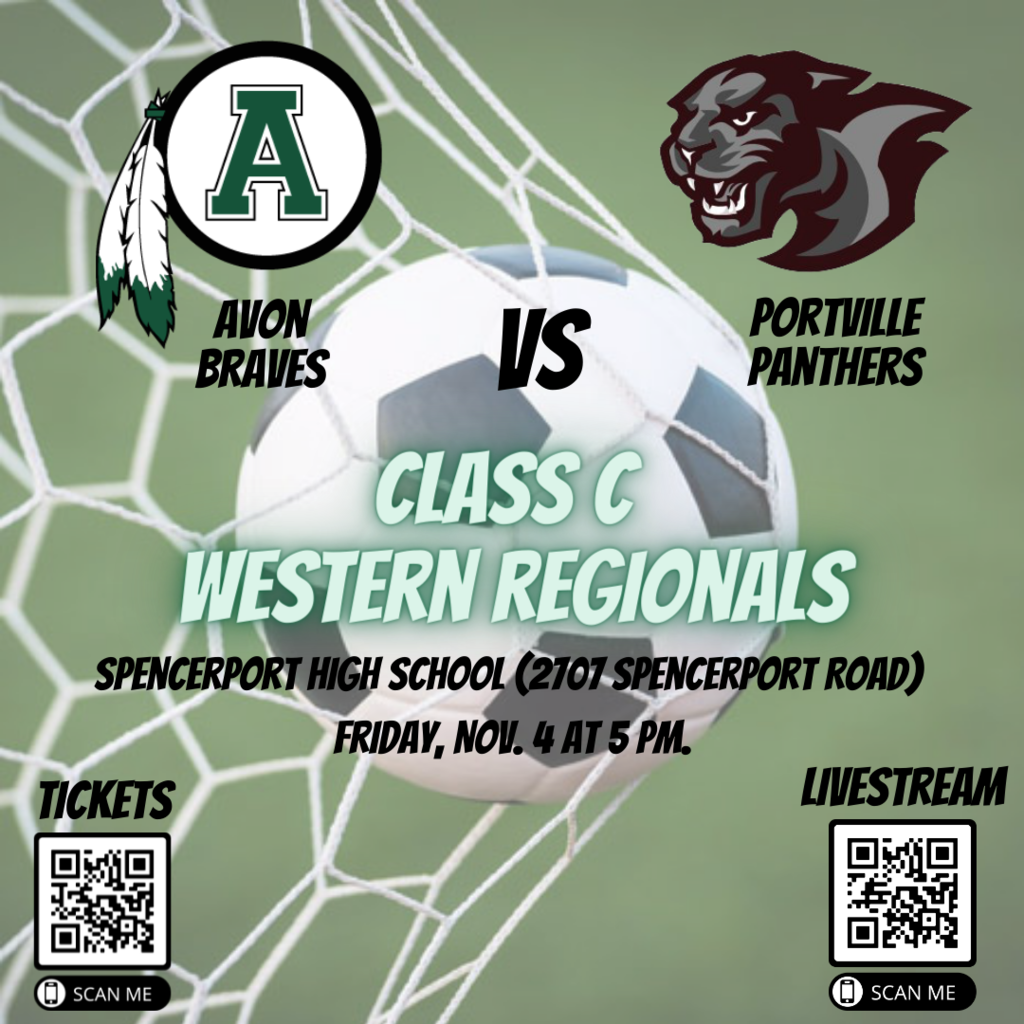 In honor of School Board Recognition Week, we would like to thank members of our Board of Education for their commitment to our students, district and community. It's a hard job that requires a lot of time and effort and we're grateful for our board's vision and leadership. Thank you!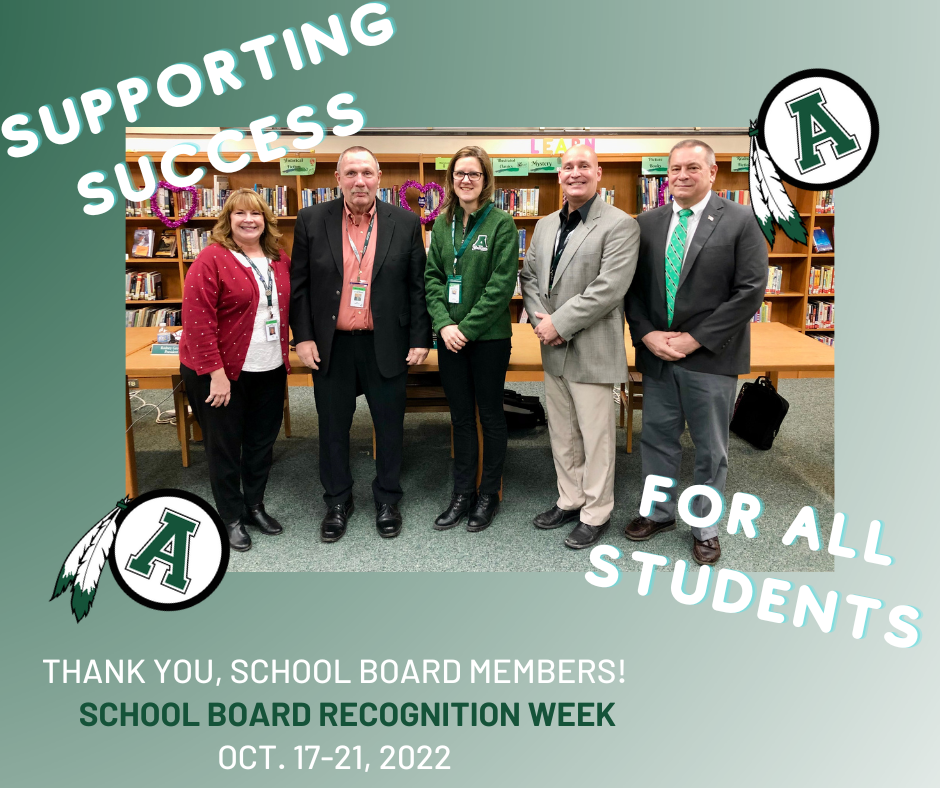 Set your alarm clocks, Braves Nation, because we're about to go LIVE! WHAM-TV, channel 13 in Rochester, has chosen to feature Avon Central Schools during its Friday Morning Lights segment tomorrow morning. Our students will be pumped up and out on the turf of our athletic stadium from 6 to 7 a.m. tomorrow, ready to show the viewing public some of the great things going on here at Avon. Students are invited to come dressed in their Braves gear and join in on the fun! Thank you and please encourage your students to come out with their green and white tomorrow morning to show their Braves pride!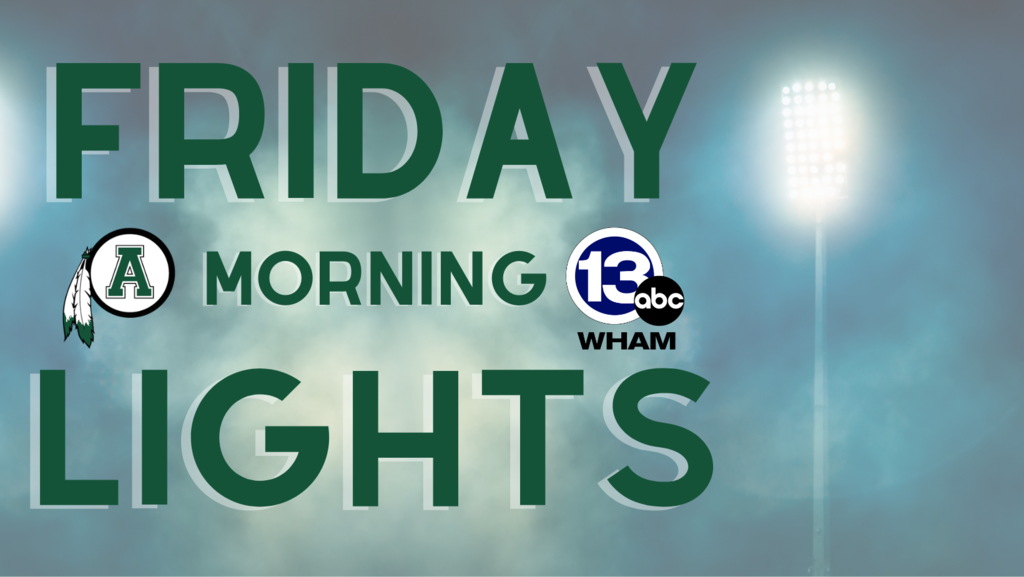 Dear Parents/Guardians, During the 2021-2022 school year the federal government made school breakfasts and lunches free for all students to ease the burden of the COVID-19 pandemic. Unfortunately, the funding has come to an end as of June 30, 2022. This school year families will have to once again fill out the Free and Reduced Meals Application in order to qualify. You can find the application in the "Food Services" section of our website, AvonCSD.org, or by clicking on the link below. You may also pick up an application in any of the main offices. If you have any questions please feel free to contact Food Service Director Tammy Hale at (585) 226-2455, ext. 1735 or
thale@avoncsd.org
. Completed forms can also be returned to Hale at 191 Clinton St., Avon, NY 14414, or to the cafeteria. Link:
https://www.avoncsd.org/page/food-services
Avon Central Schools Meal Prices 2022-2023 Breakfast: $1.50 Lunch (PreK-4): $2.45 Lunch (5-12): $2.70