Mental Health Minute Issue 8 Week of 5/11


Mental Health Minute
Issue 8
Week of 5/11 - 5/15
The Avon Central School Mental Health team would like to offer support for our kids and families by providing weekly on-line tips and resources. We understand this can be a stressful time for families and that you are receiving a lot of information from many different directions. Taking this into account, our team has decided to pull some of the best information we can find and bring it to you in small weekly installments. If you are overwhelmed right now, the NYS COVID-19 Emotional Support Line is staff by specially trained volunteers who can help: 1-844-863-9314 NYS Office of Mental Health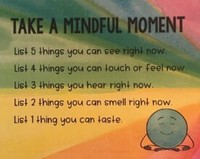 Foodlink has announced two upcoming distributions in Livingston County occurring on:
May 16th from 9-11 AM in Dansville (Dansville Central School District located: 282 Main St, Dansville, NY 14437)

May 20th from 3-5 PM in Geneseo (Geneseo Central School District located: 4050 Avon Geneseo Rd, Geneseo, NY 14454)
Distribution is first come, first served for Livingston County registrants (one per household).
Register by phone at 585-243-7110 Or https://tinyurl.com/FoodlinkLivCo
Gentle Reminders...that we all need
Get enough sleep. Practice good sleep hygiene. Avoid cell phones or TV before bed, try to go to bed at the same time each night, make sure the room is dark and quiet enough, and practice breathing or mindfulness exercises if your thoughts are too "loud" to sleep.

Exercise regularly. There are free exercise videos on YouTube or Go Noodle for adults and kids.

Eat healthy and drink enough water

Have social contact with others, even if you can't see them in person. You can call, video conference, or connect online.
* Here is a printable reminder you can pin on your refrigerator: