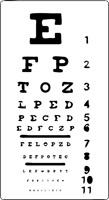 Per the New York State Education Department, hearing, vision, and scoliosis screenings have been waived for the 2020-2021 school year due to the COVID-19 crisis.
Student athletes are allowed to participate in the Fall 2020 season if the previously had a health examination for school attendance in the 2018-2019 or 2019-2020 school year AND provide a completed Health History form within 30 days of the start of the fall 2020 season. See form below.

NYSED still requires an annual physical exam for new entrants, students in Grades K, 1, 3, 5, 7, 9, 11, sports, working permits and triennially for the Committee on Special Education.
Dental certificates are requested at the time of required health appraisals.
If a physical is completed by your child's primary physician, please have it faxed to the nurse's office at (585) 226-1736.

NEED HELP DOWNLOADING:
pdf file: You need Adobe Acrobat Reader (version 7 or higher) to view this file. Download the free Adobe Acrobat Reader for PC or Macintosh.docx file: You need the Microsoft Word program, the Microsoft Word app, or a program that can import Word files in order to view this file. To learn more about the free Microsoft Word app, visit the Microsoft store.