Avon Athletic Hall of Fame
Class of 2019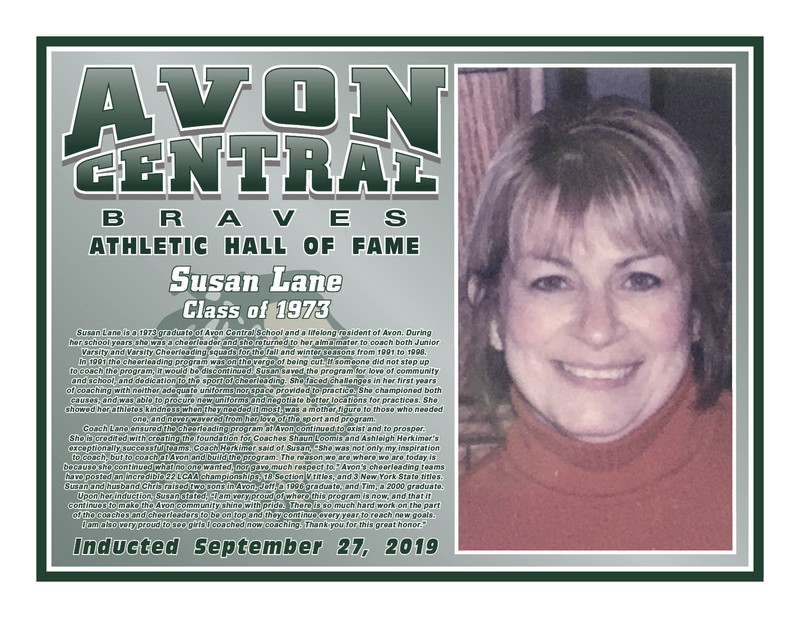 Susan Lane - Class of 1973
Susan Lane is a 1973 graduate of Avon Central School and a lifelong resident of Avon. During her school years she was a cheerleader and she returned to her alma mater to coach both Junior Varsity and Varsity Cheerleading squads for the fall and winter seasons from 1991 to 1998.
In 1991 the cheerleading program was on the verge of being cut. If someone did not step up to coach the program, it would be discontinued. Susan saved the program for love of community and school, and dedication to the sport of cheerleading. She faced challenges in her first years of coaching with neither adequate uniforms nor space provided to practice. She championed both causes, and was able to procure new uniforms and negotiate better locations for practices. She showed her athletes kindness when they needed it most, was a mother figure to those who needed one, and never wavered from her love of the sport and program.
Coach Lane ensured the cheerleading program at Avon continued to exist and to prosper. She is credited with creating the foundation for Coaches Shaun Loomis and Ashleigh Herkimer's exceptionally successful teams. Coach Herkimer said of Susan, "She was not only my inspiration to coach, but to coach at Avon and build the program. The reason we are where we are today is because she continued what no one wanted, nor gave much respect to." Avon's cheerleading teams have posted an incredible 22 LCAA championships, 18 Section V titles, and 3 New York State titles.
Susan and husband Chris raised two sons in Avon, Jeff, a 1996 graduate, and Tim, a 2000 graduate. Upon her induction, Susan stated, "I am very proud of where this program is now, and that it continues to make the Avon community shine with pride. There is so much hard work on the part of the coaches and cheerleaders to be on top and they continue every year to reach new goals. I am also very proud to see girls I coached now coaching. Thank you for this great honor."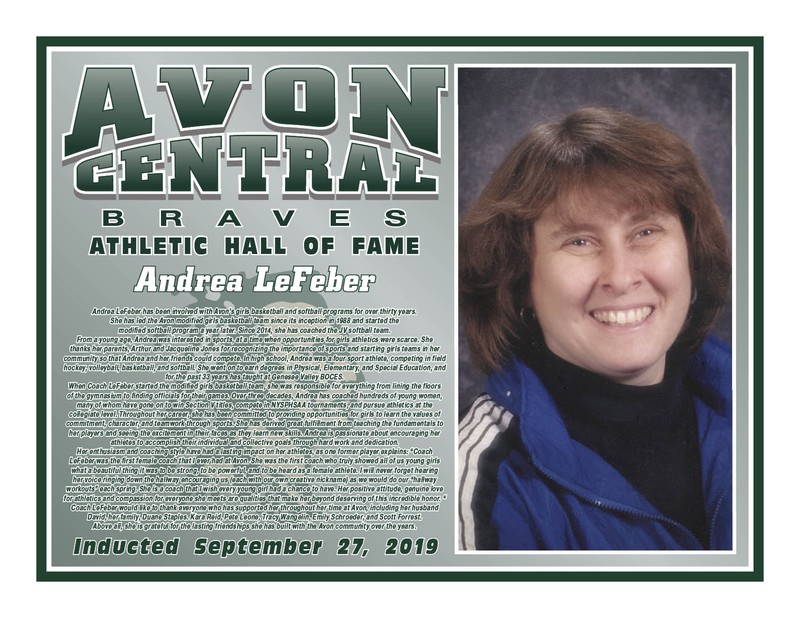 Andrea LeFeber
Andrea LeFeber has been involved with Avon's girls basketball and softball programs for over thirty years. She has led the Avon modified girls basketball team since its inception in 1988 and started the modified softball program a year later. Since 2014, she has coached the JV softball team.
From a young age, Andrea was interested in sports, at a time when opportunities for girls athletics were scarce. She thanks her parents, Arthur and Jacqueline Jones for recognizing the importance of sports and starting girls teams in her community so that Andrea and her friends could compete. In high school, Andrea was a four sport athlete, competing in field hockey, volleyball, basketball, and softball. She went on to earn degrees in Physical, Elementary, and Special Education, and for the past 33 years has taught at Genesee Valley BOCES.
When Coach LeFeber started the modified girls basketball team, she was responsible for everything from lining the floors of the gymnasium to finding officials for their games. Over three decades, Andrea has coached hundreds of young women, many of whom have gone on to win Section V titles, compete in NYSPHSAA tournaments, and pursue athletics at the collegiate level. Throughout her career, she has been committed to providing opportunities for girls to learn the values of commitment, character, and teamwork through sports. She has derived great fulfillment from teaching the fundamentals to her players and seeing the excitement in their faces as they learn new skills. Andrea is passionate about encouraging her athletes to accomplish their individual and collective goals through hard work and dedication.
Her enthusiasm and coaching style have had a lasting impact on her athletes, as one former player explains: "Coach LeFeber was the first female coach that I ever had at Avon. She was the first coach who truly showed all of us young girls what a beautiful thing it was to be strong, to be powerful, and to be heard as a female athlete. I will never forget hearing her voice ringing down the hallway encouraging us (each with our own creative nickname) as we would do our "hallway workouts" each spring. She is a coach that I wish every young girl had a chance to have. Her positive attitude, genuine love for athletics and compassion for everyone she meets are qualities that make her beyond deserving of this incredible honor. "
Coach LeFeber would like to thank everyone who has supported her throughout her time at Avon, including her husband David, her family, Duane Staples. Kara Reid, Pete Leone, Tracy Wangelin, Emily Schroeder, and Scott Forrest. Above all, she is grateful for the lasting friendships she has built with the Avon community over the years.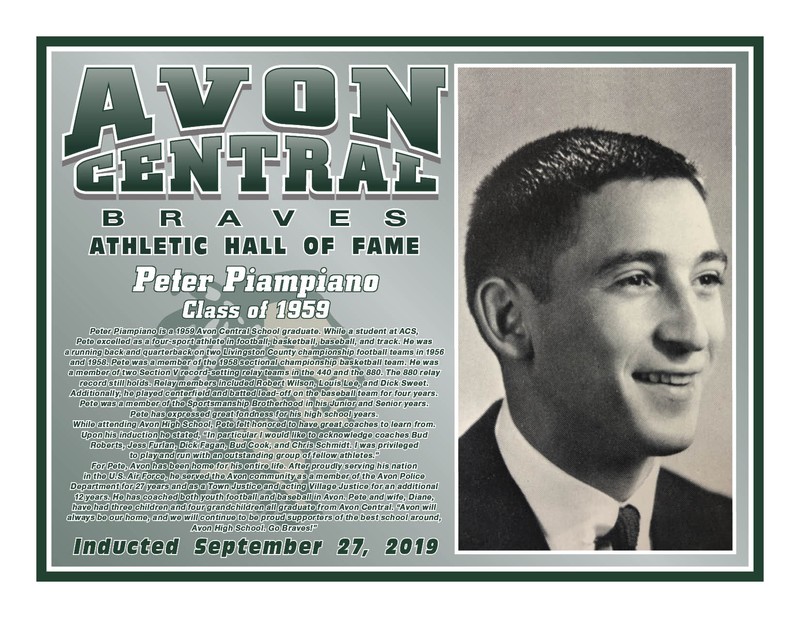 Peter Piampiano - Class of 1959
Peter Piampiano is a 1959 Avon Central School graduate. While a student at ACS, Pete excelled as a four-sport athlete in football, basketball, baseball, and track. He was a running back and quarterback on two Livingston County championship football teams in 1956 and 1958. Pete was a member of the 1958 sectional championship basketball team. He was a member of two Section V record-setting relay teams in the 440 and the 880. The 880 relay record still holds. Relay members included Robert Wilson, Louis Lee, and Dick Sweet. Additionally, he played centerfield and batted lead-off on the baseball team for four years. Pete was a member of the Sportsmanship Brotherhood in his Junior and Senior years.
Pete has expressed great fondness for his high school years. While attending Avon High School, Pete felt honored to have great coaches to learn from. Upon his induction he stated, "In particular I would like to acknowledge coaches Bud Roberts, Jess Furlan, Dick Fagan, Bud Cook, and Chris Schmidt. I was privileged to play and run with an outstanding group of fellow athletes."
For Pete, Avon has been home for his entire life. After proudly serving his nation in the U.S. Air Force, he served the Avon community as a member of the Avon Police Department for 27 years and as a Town Justice and acting Village Justice for an additional 12 years. He has coached both youth football and baseball in Avon. Pete and wife, Diane, have had three children and four grandchildren all graduate from Avon Central. "Avon will always be our home, and we will continue to be proud supporters of the best school around, Avon High School. Go Braves!"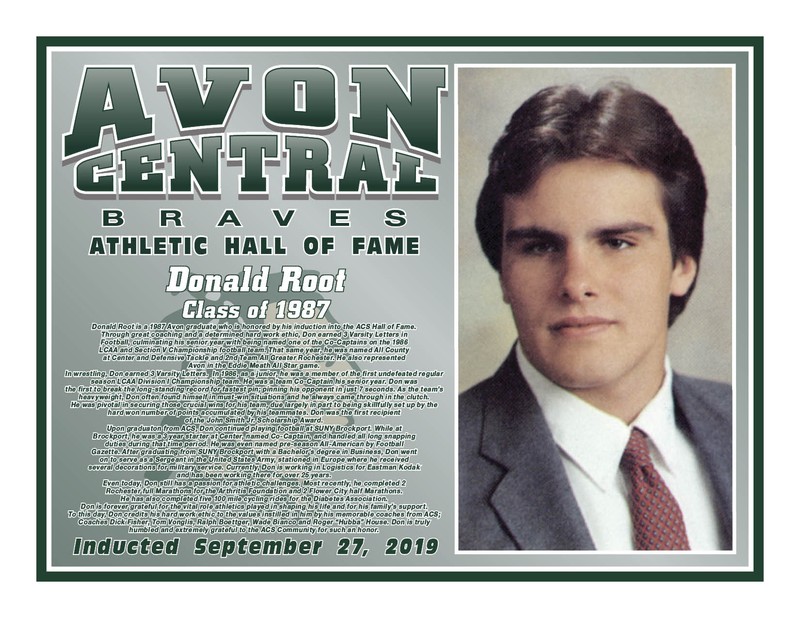 Donald Root - Class of 1987
Donald Root is a 1987 Avon graduate who is honored by his induction into the ACS Hall of Fame. Through great coaching and a determined hard work ethic, Don earned 3 Varsity Letters in Football, culminating his senior year with being named one of the Co-Captains on the 1986 LCAA and Section V Championship football team. That same year, he was named All County at Center and Defensive Tackle and 2nd Team All Greater Rochester. He also represented Avon in the Eddie Meath All Star game.
In wrestling, Don earned 3 Varsity Letters. In 1986, as a junior, he was a member of the first undefeated regular season LCAA Division I Championship team. He was a team Co-Captain his senior year. Don was the first to break the long-standing record for fastest pin; pinning his opponent in just 7 seconds. As the team's heavyweight, Don often found himself in must-win situations and he always came through in the clutch. He was pivotal in securing those crucial wins for his team, due largely in part to being skillfully set up by the hard won number of points accumulated by his teammates. Don was the first recipient of the John Smith Jr. Scholarship Award.
Upon graduation from ACS, Don continued playing football at SUNY Brockport. While at Brockport, he was a 3 year starter at Center, named Co-Captain, and handled all long snapping duties during that time period. He was even named pre-season All-American by Football Gazette. After graduating from SUNY Brockport with a Bachelor's degree in Business, Don went on to serve as a Sergeant in the United States Army, stationed in Europe where he received several decorations for military service. Currently, Don is working in Logistics for Eastman Kodak and has been working there for over 25 years.
Even today, Don still has a passion for athletic challenges. Most recently, he completed 2 Rochester full Marathons for the Arthritis Foundation and 2 Flower City half Marathons. He has also completed five 100 mile cycling rides for the Diabetes Association.
Don is forever grateful for the vital role athletics played in shaping his life and for his family's support. To this day, Don credits his hard work ethic to the values instilled in him by his memorable coaches from ACS; Coaches Dick Fisher, Tom Vonglis, Ralph Boettger, Wade Bianco and Roger "Hubba" House. Don is truly humbled and extremely grateful to the ACS Community for such an honor.