Avon Athletic Hall of Fame
Class of 2017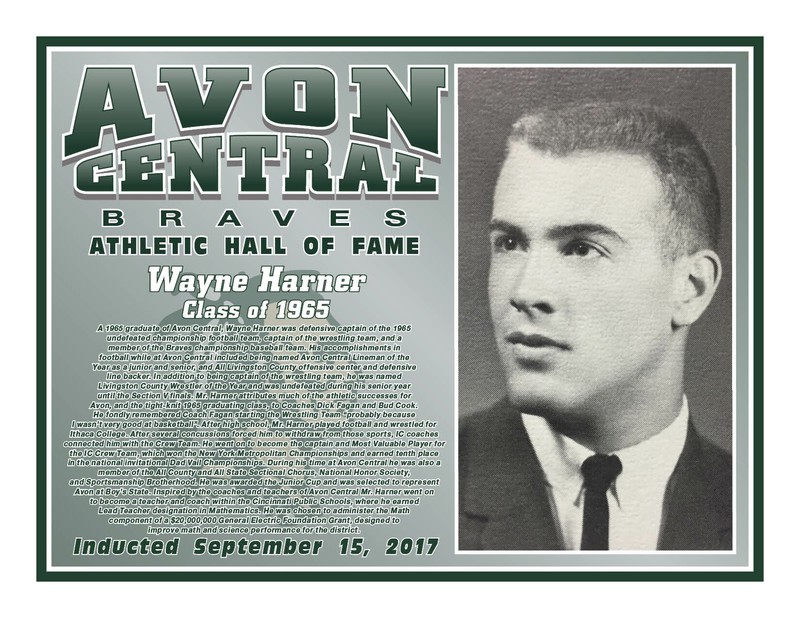 Wayne Harner - Class of 1965
A 1965 graduate of Avon Central, Wayne Harner was defensive captain of the 1965 undefeated championship football team, captain of the wrestling team, and a member of the Braves championship baseball team. His accomplishments in football while at Avon Central included being named Avon Central Lineman of the Year as a junior and senior, and All Livingston County offensive center and defensive line backer. In addition to being captain of the wrestling team, he was named Livingston County Wrestler of the Year and was undefeated during his senior year until the Section V finals. Mr. Harner attributes much of the athletic successes for Avon, and the tight-knit 1965 graduating class, to Coaches Dick Fagan and Bud Cook. He fondly remembered Coach Fagan starting the Wrestling Team "probably because I wasn't very good at basketball".
After high school, Mr. Harner played football and wrestled for Ithaca College. After several concussions forced him to withdraw from those sports, IC coaches connected him with the Crew Team. He went on to become the captain and Most Valuable Player for the IC Crew Team, which won the New York Metropolitan Championships and earned tenth place in the national invitational Dad Vail Championships.
During his time at Avon Central he was also a member of the All County and All State Sectional Chorus, National Honor Society, and Sportsmanship Brotherhood. He was awarded the Junior Cup and was selected to represent Avon at Boy's State.
Inspired by the coaches and teachers of Avon Central Mr. Harner went on to become a teacher and coach within the Cincinnati Public Schools, where he earned Lead Teacher designation in Mathematics. He was chosen to administer the Math component of a $20,000,000 General Electric Foundation Grant, designed to improve math and science performance for the district.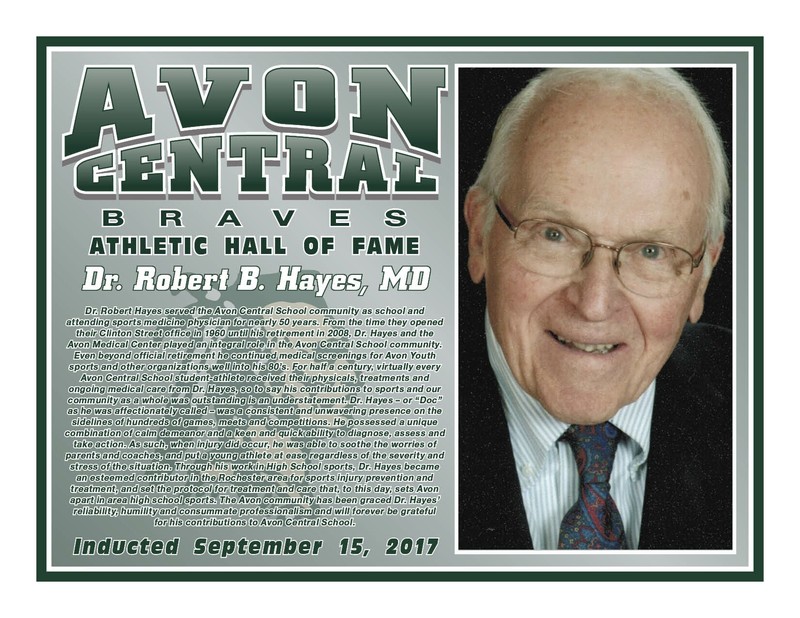 Dr. Robert B. Hayes, MD
Dr. Robert Hayes served the Avon Central School community as school and attending sports medicine physician for nearly 50 years. From the time they opened their Clinton Street office in 1960 until his retirement in 2008, Dr. Hayes and the Avon Medical Center played an integral role in the Avon Central School community. Even beyond official retirement he continued medical screenings for Avon Youth sports and other organizations well into his 80's.
For half a century, virtually every Avon Central School student-athlete received their physicals, treatments and ongoing medical care from Dr. Hayes, so to say his contributions to sports and our community as a whole was outstanding is an understatement.
Dr. Hayes – or "Doc" as he was affectionately called – was a consistent and unwavering presence on the sidelines of hundreds of games, meets and competitions. He possessed a unique combination of calm demeanor and a keen and quick ability to diagnose, assess and take action. As such, when injury did occur, he was able to soothe the worries of parents and coaches, and put a young athlete at ease regardless of the severity and stress of the situation. Through his work in High School sports, Dr. Hayes became an esteemed contributor in the Rochester area for sports injury prevention and treatment, and set the protocol for treatment and care that, to this day, sets Avon apart in area high school sports.
The Avon community has been graced Dr. Hayes' reliability, humility and consummate professionalism and will forever be grateful for his contributions to Avon Central School.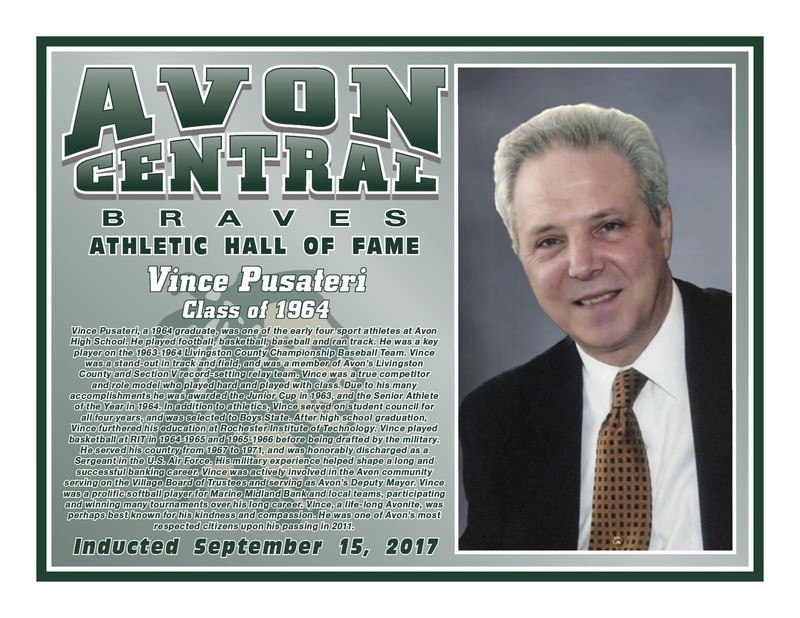 Vince Pusateri - Class of 1964
Vince Pusateri, a 1964 graduate, was one of the early four sport athletes at Avon High School. He played football, basketball, baseball and ran track. He was a key player on the 1963-1964 Livingston County Championship Baseball Team. Vince was a stand-out in track and field, and was a member of Avon's Livingston County and Section V record-setting relay team. Vince was a true competitor and role model who played hard and played with class. Due to his many accomplishments he was awarded the Junior Cup in 1963, and the Senior Athlete of the Year in 1964. In addition to athletics, Vince served on student council for all four years, and was selected to Boys State.
After high school graduation, Vince furthered his education at Rochester Institute of Technology. Vince played basketball at RIT in 1964-1965 and 1965-1966 before being drafted by the military. He served his country from 1967 to 1971, and was honorably discharged as a Sergeant in the U.S. Air Force. His military experience helped shape a long and successful banking career.

Vince was actively involved in the Avon community serving on the Village Board of Trustees and serving as Avon's Deputy Mayor. Vince was a prolific softball player for Marine Midland Bank and local teams, participating and winning many tournaments over his long career. Vince, a life-long Avonite, was perhaps best known for his kindness and compassion. He was one of Avon's most respected citizens upon his passing in 2011.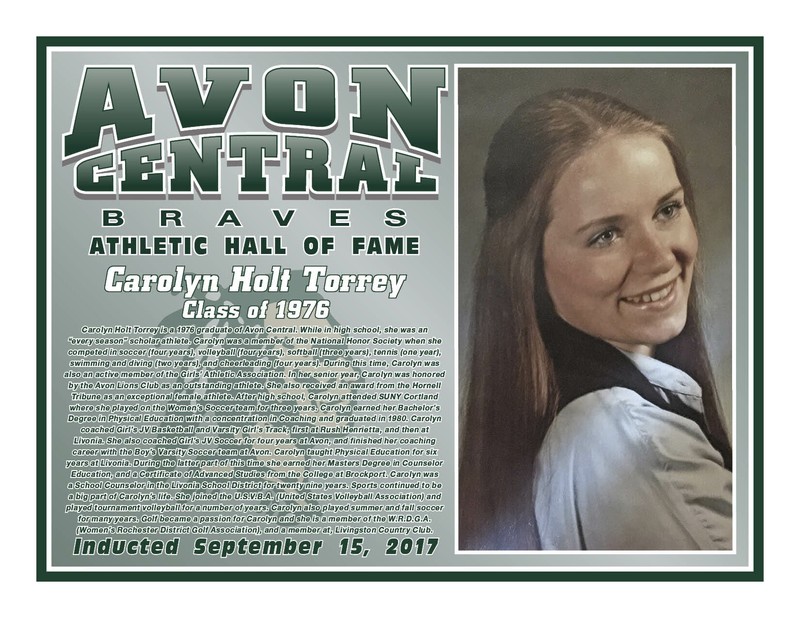 Carolyn Holt Torrey - Class of 1976
Carolyn Holt Torrey is a 1976 graduate of Avon Central. While in high school, she was an "every season" scholar athlete. Carolyn was a member of the National Honor Society when she competed in soccer (four years), volleyball (four years), softball (three years), tennis (one year), swimming and diving (two years), and cheerleading (four years). During this time, Carolyn was also an active member of the Girls' Athletic Association. In her senior year, Carolyn was honored by the Avon Lions Club as an outstanding athlete. She also received an award from the Hornell Tribune as an exceptional female athlete.
After high school, Carolyn attended SUNY Cortland where she played on the Women's Soccer team for three years. Carolyn earned her Bachelor's Degree in Physical Education with a concentration in Coaching and graduated in 1980.
Carolyn coached Girl's JV Basketball and Varsity Girl's Track, first at Rush Henrietta, and then at Livonia. She also coached Girl's JV Soccer for four years at Avon, and finished her coaching career with the Boy's Varsity Soccer team at Avon.
Carolyn taught Physical Education for six years at Livonia. During the latter part of this time she earned her Masters Degree in Counselor Education, and a Certificate of Advanced Studies from the College at Brockport. Carolyn was a School Counselor in the Livonia School District for twenty nine years.
Sports continued to be a big part of Carolyn's life. She joined the U.S.V.B.A. (United States Volleyball Association) and played tournament volleyball for a number of years. Carolyn also played summer and fall soccer for many years. Golf became a passion for Carolyn and she is a member of the W.R.D.G.A. (Women's Rochester District Golf Association), and a member at, Livingston Country Club.