Avon Athletic Hall of Fame
Class of 2016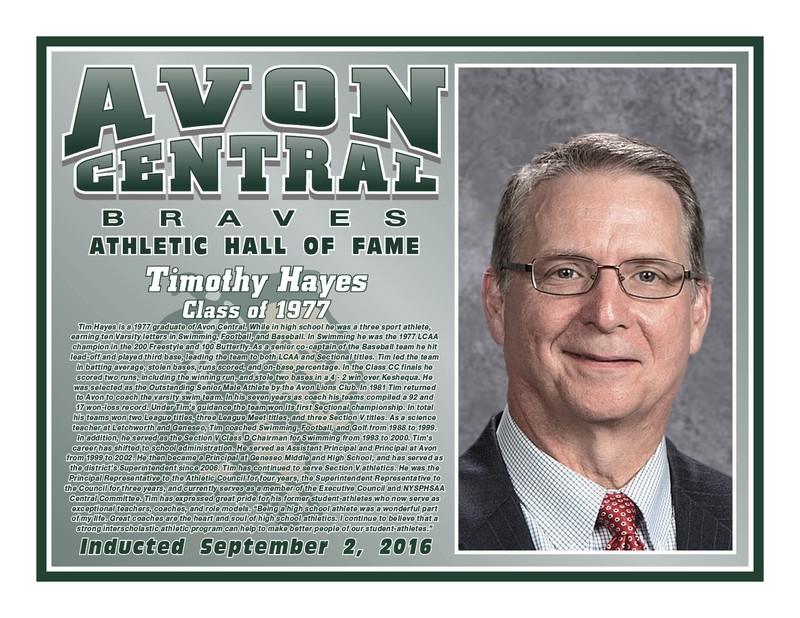 Timothy Hayes - Class of 1977
Tim Hayes is a 1977 graduate of Avon Central. While in high school he was a three sport athlete, earning ten Varsity letters in Swimming, Football, and Baseball. In Swimming he was the 1977 LCAA champion in the 200 Freestyle and 100 Butterfly. As a senior co-captain of the Baseball team he hit lead-off and played third base, leading the team to both LCAA and Sectional titles. Tim led the team in batting average, stolen bases, runs scored, and on-base percentage. In the Class CC finals he scored two runs, including the winning run, and stole two bases in a 4 - 2 win over Keshequa. He was selected as the Outstanding Senior Male Athlete by the Avon Lions Club.
In 1981 Tim returned to Avon to coach the varsity swim team. In his seven years as coach his teams compiled a 92 and 17 won-loss record. Under Tim's guidance the team won its first Sectional championship. In total his teams won two League titles, three League Meet titles, and three Section V titles. After Tim's tenure at Avon, as a science teacher at Letchworth and Geneseo, he coached Swimming, Football, and Golf from 1988 to 1999. In addition, he served as the Section V Class D Chairman for Swimming from 1993 to 2000.
Tim's career has shifted to school administration. He served as Assistant Principal and Principal at Avon from 1999 to 2002. He then became a Principal at Geneseo Middle and High School, and has served as the district's Superintendent since 2006. Tim has continued to serve Section V athletics. He was the Principal Representative to the Athletic Council for four years, the Superintendent Representative to the Council for three years, and currently serves as a member of the Executive Council and NYSPHSAA Central Committee.
Tim has expressed great pride for his former student-athletes who now serve as exceptional teachers, coaches, and role models. "Being a high school athlete was a wonderful part of my life. Great coaches are the heart and soul of high school athletics. I continue to believe that a strong interscholastic athletic program can help to make better people of our student-athletes."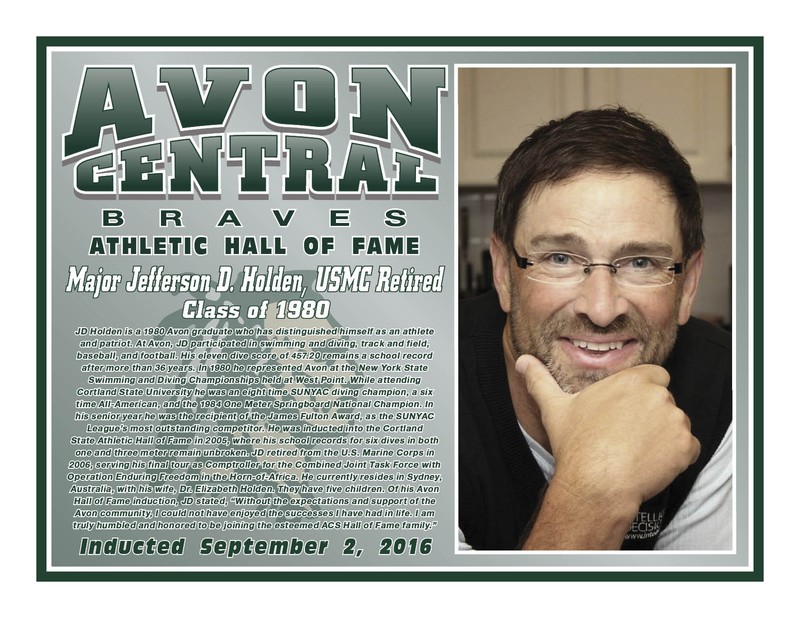 Major Jefferson D Holden, United States Marine Corp, Retired - Class of 1980
JD Holden is a 1980 Avon graduate who has distinguished himself as an athlete and patriot. At Avon, JD participated in swimming and diving, track and field, baseball, and football. His eleven dive score of 457.20 remains a school record after more than 36 years. In 1980 he represented Avon at the New York State swimming and diving championships held at West Point. While attending Cortland State University he was an eight time SUNYAC diving champion, a six time All-American, and the 1984 One-meter springboard National Champion. In his senior year he was the recipient of the James Fulton Award as the League's most outstanding competitor. He was inducted into the Cortland State Athletic Hall of Fame in 2005, where his school records for six dives in both one and three meter remain unbroken. JD retired from the U.S. Marine Corps in 2006, serving his final tour as Comptroller for the Combined Joint Task Force with Operation Enduring Freedom in the Horn-of-Africa. He currently resides in Sydney, Australia, with his wife, Dr. Elizabeth Holden. They have five children.
Of his induction, JD stated, "Without the expectations and support of the Avon community, I could not have enjoyed the successes I have had in life. I am truly humbled and honored to be joining the esteemed ACS Hall of Fame family."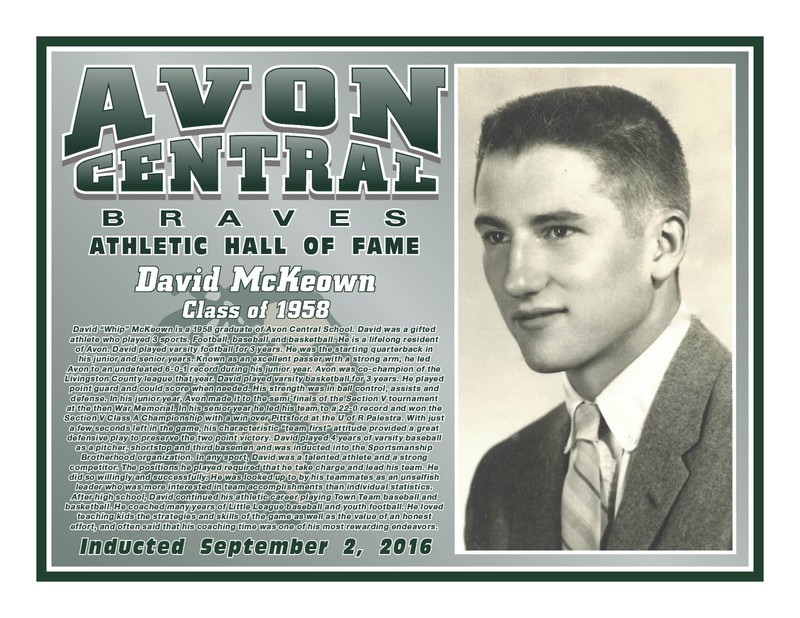 David McKeown - Class of 1958
David "Whip" McKeown is a 1958 graduate of Avon Central School. David was a gifted athlete who played 3 sports. Football, baseball and basketball. He is a lifelong resident of Avon. David played varsity football for 3 years. He was the starting quarterback in his junior and senior years. Known as an excellent passer with a strong arm, he led Avon to an undefeated 6-0-1 record during his junior year. Avon was co-champion of the Livingston County league that year. David played varsity basketball for 3 years. He played point guard and could score when needed. His strength was in ball control, assists and defense. In his junior year, Avon made it to the semi-finals of the Section V tournament at the then War Memorial. In his senior year he led his team to a 22-0 record and won the Section V Class A Championship with a win over Pittsford at the U of R Palestra. With just a few seconds left in the game, his characteristic "team first" attitude provided a great defensive play to preserve the two point victory. David played 4 years of varsity baseball as a pitcher, shortstop and third basemen and was inducted into the Sportsmanship Brotherhood organization.
In any sport, David was a talented athlete and a strong competitor. The positions he played required that he take charge and lead his team. He did so willingly and successfully. He was looked up to by his teammates as an unselfish leader who was more interested in team accomplishments than individual statistics. After high school, David continued his athletic career playing Town Team baseball and basketball. He coached many years of Little League baseball and youth football. He loved teaching kids the strategies and skills of the game as well as the value of an honest effort and often said that his coaching time was one of his most rewarding endeavors.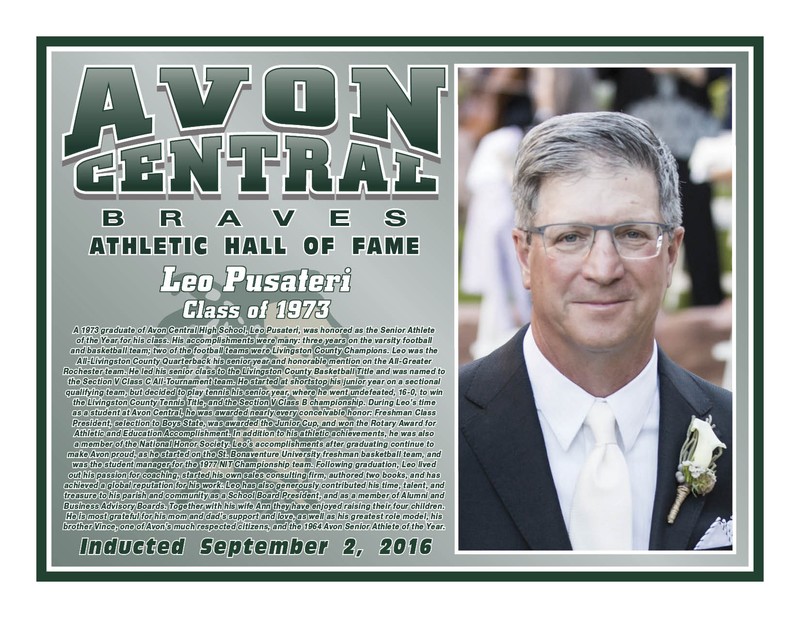 Leo Pusateri - Class of 1973
A 1973 graduate of Avon Central High School, Leo Pusateri, was honored as the Senior Athlete of the Year for his class. His accomplishments were many: three years on the varsity football and basketball team; two of the football teams were Livingston County Champions. Leo was the All-Livingston County Quarterback his senior year and honorable mention on the All-Greater Rochester team. He led his senior class to the Livingston County Basketball Title and was named to the Section V Class C All-Tournament team. He started at shortstop his junior year on a sectional qualifying team, but decided to play tennis his senior year, where he went undefeated, 16-0, to win the Livingston County Tennis Title, and the Section V Class B championship. During Leo's time as a student at Avon Central, he was awarded nearly every conceivable honor: Freshman Class President, selection to Boys State, was awarded the Junior Cup, and won the Rotary Award for Athletic and Education Accomplishment. In addition to his athletic achievements, he was also a member of the National Honor Society.
Leo's accomplishments after graduating continue to make Avon proud, as he started on the St. Bonaventure University freshman basketball team, and was the student manager for the 1977 NIT Championship team. Following graduation, Leo lived out his passion for coaching, started his own sales consulting firm, authored two books, and has achieved a global reputation for his work. Leo has also generously contributed his time, talent, and treasure to his parish and community as a School Board President, and as a member of Alumni and Business Advisory Boards. Together with his wife Ann they have enjoyed raising their four children. He is most grateful for his mom and dad's support and love, as well as his greatest role model, his brother Vince, one of Avon's much respected citizens, and the 1964 Avon Senior Athlete of the Year.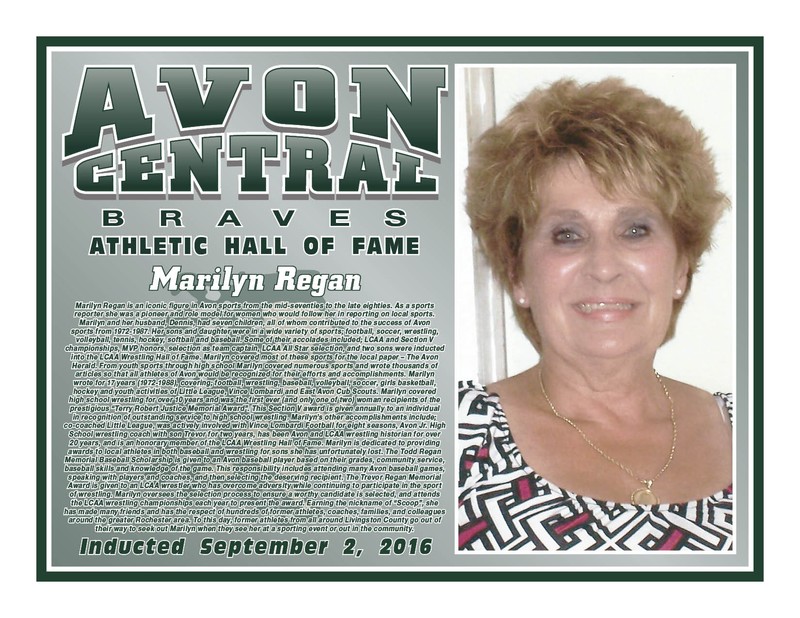 Marilyn Regan
Marilyn Regan is an iconic figure in Avon sports from the mid-seventies to the late eighties. As a sports reporter she was a pioneer and role model for women who would follow her in reporting on local sports. Marilyn and her husband, Dennis, had seven children, all of whom contributed to the success of Avon sports from 1972-1987. Her sons and daughter were in a wide variety of sports; football, soccer, wrestling, volleyball, tennis, hockey, softball and baseball. Some of their accolades included; LCAA and Section V championships, MVP honors, selection as team captain, LCAA All Star selection, and two sons were inducted into the LCAA Wrestling Hall of Fame. Marilyn covered most of these sports for the local paper – The Avon Herald. From youth sports through high school Marilyn covered numerous sports and wrote thousands of articles so that all athletes of Avon would be recognized for their efforts and accomplishments. Marilyn wrote for 17 years (1972-1988), covering; football, wrestling, baseball, volleyball, soccer, girls basketball, hockey and youth activities of Little League, Vince Lombardi and East Avon Cub Scouts.
Marilyn covered high school wrestling for over 10 years and was the first ever (and only one of two) woman recipients of the prestigious "Terry Robert Justice Memorial Award". This Section V award is given annually to an individual in recognition of outstanding service to high school wrestling.
Marilyn's other accomplishments include; co-coached Little League, was actively involved with Vince Lombardi Football for eight seasons, Avon Jr. High School wrestling coach with son Trevor for two years, has been Avon and LCAA wrestling historian for over 20 years, and is an honorary member of the LCAA Wrestling Hall of Fame
Marilyn is dedicated to providing awards to local athletes in both baseball and wrestling for sons she has unfortunately lost. The Todd Regan Memorial Baseball Scholarship is given to an Avon baseball player based on their grades, community service, baseball skills and knowledge of the game. This responsibility includes attending many Avon baseball games, speaking with players and coaches, and then selecting the deserving recipient. The Trevor Regan Memorial Award is given to an LCAA wrestler who has overcome adversity while continuing to participate in the sport of wrestling. Marilyn oversees the selection process to ensure a worthy candidate is selected, and attends the LCAA wrestling championships each year to present the award.
Earning the nickname of "Scoop", she has made many friends and has the respect of hundreds of former athletes, coaches, families, and colleagues around the greater Rochester area. To this day, former athletes from all around Livingston County go out of their way to seek out Marilyn when they see her at a sporting event or out in the community.